Skyguide continues to improve its energy efficiency
Skyguide, the Swiss air navigation service provider, is continuing its efforts to reduce fuel consumption from air traffic and to increase its use of clean energy. Skyguide is committed to the Swiss government's "Energy and Climate Exemplarity" initiative and is following clear targets and implementing concrete measures. Between 2006 and 2020, Skyguide has increased its energy efficiency by 52.4%.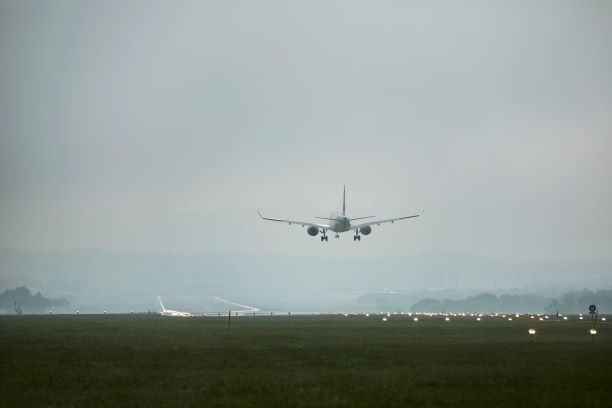 Skyguide is committed to reducing the CO2 emissions of air traffic while maintaining or even enhancing its safety levels. The Swiss air navigation service provider aims to ensure that aircraft fly the shortest route possible to their destinations. To this end, Skyguide has developed a network of direct air routes over Switzerland. Shortening flight routes is a real contributor to reducing fuel consumption. Skyguide has developed 63 optimised route segments available to airlines in recent years and is now working on the roll-out of an even more direct route network by 2022. Skyguide's improved procedures and systems have also helped to reduce aircraft waiting times for take-off and landing, which in turn reduces CO2 emissions.
Skyguide has also developed a drone to replace half of the calibration flights that were previously performed by a specially equipped aircraft. Since automatic landing systems must be calibrated regularly at airports, this replacement will reduce CO2 emissions by 142 tonnes per year and energy consumption by some 541 MWh/a by 2022. A 70% reduction in CO2 emissions from calibration flights is targeted by 2023.
The so-called Virtual Centre programme sets the technological course for the future. The Virtual Centre also enables Skyguide to adapt its capacities rapidly and optimise air traffic efficiency. The virtualisation of the company's air traffic management infrastructure enhances the adaptability and reliability of its services. The Virtual Centre also reinforces Skyguide's position as a pioneer in the field of safe air traffic management in European airspace, while at the same time reducing fuel consumption and CO2 emissions. The Virtual Centre's innovative capabilities have earned Skyguide an award from the European Commission.
Concerning Skyguide's own infrastructure and operating energy consumption, the share of renewable energy in the company's total consumption has increased from 44% in 2006 to 88% in 2020. Skyguide continued to increase its energy efficiency from 40.5% in 2019 to 52.4% in 2020.
Skyguide also strives to minimise business travel and ensure electronic communication between its 14 locations, and this not just during the COVID-19 pandemic. To this end, the use of web and video conferencing and Home-Office is being promoted. This technological adaptation and the emphasis placed on environmental criteria in the choice of means of transport have enabled Skyguide to reduce its environmental impact related to staff mobility and to be well prepared to face the work organisation difficulties which arose from the current pandemic.
"The fact that we have already achieved many of our long-term goals does not prevent us from continuing to improve the efficiency of our processes for the benefit of safety and the environment, by combining green innovations and dialogue with our partners and customers," says Alex Bristol, CEO of Skyguide. "Environmental protection is an integral part of our mission."
Further information can be found under:
www.skyguide.ch/wp-content/uploads/2021/06/vbe-bericht-2013-2020-en.pdf
www.skyguide.ch/en/company/environment/