Altitude Angel to power new Sky-Drones 'in-app experience'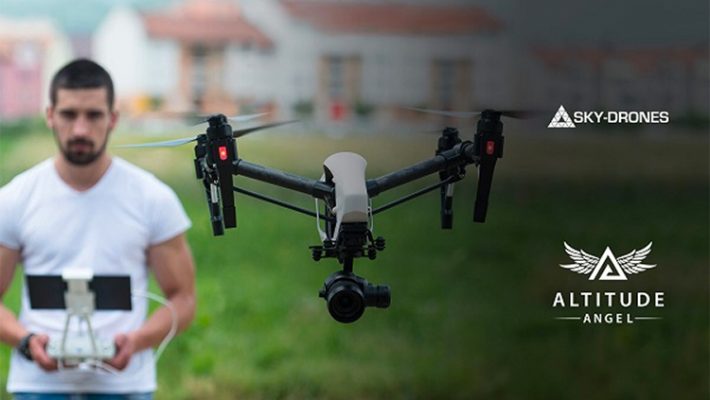 Altitude Angel, the world's leading UTM (Unmanned Traffic Management) technology provider, today announced it is to integrate its best-in-class data with UAV (unmanned aerial vehicle) avionic solutions provider Sky-Drones, to enhance its drone management platform, Sky-Drones Cloud.
Sky-Drones create professional full stack UAV avionics solutions (hardware and software) including flight control, ground control and communication systems as well as a cloud-based management platform, which in turn allow its global customers to build and operate drones for security and commercial applications.
By integrating Altitude Angel's best-in-class data, Sky-Drones have been able to develop an enhanced range of products and services, improving its in-app experience. Operators will now be able to subscribe to UTM services, providing situational awareness through the display of NOTAMS, Temporary No Fly Zones, and ground hazards.
Sky-Drones will also be making available a more advanced 'Pro' subscription available for additional services which will include Altitude Angel's 'game changing' Conflict Resolution Service (CRS), airspace alerts, and the 'Universal Flight Gateway' for access to flight authorisations from ANSPs where available.
On partnering with Sky-Drones, Richard Ellis, Altitude Angel, Chief Business Officer, said: "By bringing together Altitude Angel's data-set with its full stack UAV avionics and ground control suite, Sky-Drones will be able to offer drone operators an exceptional tool to allow performance monitoring, mission planning, real-time control and post flight AI analytics."
Kirill Shilov, Sky-Drones, Chief Executive Officer, added: "At Sky-Drones we highly prioritise and always make efforts to enhance the safety of drone operations. Growing number of drones and more complex mission scenarios require reliable airspace regulator and it's obvious Altitude Angel is leading this sector. Upcoming integration will that Sky-Drones users will be among the first worldwide able to fly in controlled airspace without the need to switch between drone control and airspace authorisation apps."