Airspace World theatres show depth and breadth of industry discussion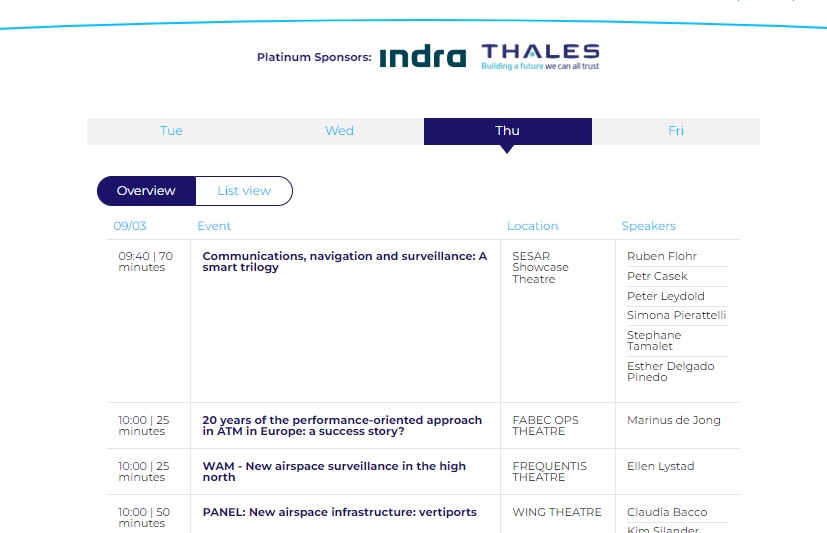 Airspace World at Palexpo, Geneva on 8-10 March, has lined up an impressive array of speakers and theatre sessions to shine a light on how the entire aviation industry can come together to shape our future skies.
Five theatres have scheduled a wide range of presentations, panel discussions, case studies, and interviews with some of our industry's leading figures and experts, all of whom will share their experience and knowledge with attendees across the three days of Airspace World.
Here's are some highlights of what you can see in each.
Delivering a Sustainable Future is the theme of the Boeing Theatre. Topics covered inlude best practice examples of organisations leading the way in sustainability, the CANSO GreenATM initiative, and a cross-industry debate on the price of net zero.
The Frequentis Theatre is focussed on finding ways to deliver technologies for a safer world. It will look at, among others, subjects like creating connected skies, infrastructure resilience, digital remote control of busy airports, and enhancing air traffic services in small nations.
At the FABEC Ops Theatre, you can explore the challenges of delivering future operations with sessions looking at, for example, long range air traffic flow management, UTM/ATM integration, and regional differences in ATM. Luis Felipe de Oliveira, Director General Airports Council International (ACI) will also share his thoughts on our industry in a conversation with Air Traffic Management Magazine's Claudia Bacco.
All aspects of delivering an integrated airspace for the future will be discussed in the Wing Theatre. There, attendees can explore large scale UAC and BVLOS operations, look at what ATM could look like in 2030, and listen in on a conversation between Alex Bristol, CEO of Swiss ANSP Skyguide, and Iacopo Prissinotti, Director Network Management, EUROCONTROL.
The SESAR Showcase Theatre will see the SESAR 3 JU and partners showcase the SESAR 2020 project outcomes and results. There, attendees can learn about the SESAR 3 JU research and development performed to date and those solutions ready for implementation. That includes the opportunity to find out about regulatory and standardisation activities that support SESAR Solutions, and hear from those already implementing SESAR Solutions about how SESAR innovation benefits their operations. The Digital European Sky Awards will also celebrate the SESAR projects that are delivering best-in-class innovation.
You can find detailed information about each session and speakers on the Airspace World event app, or on the Airspace World website here.
Finally alongside those five theatres, the Europe for Aviation partners ( EC, EUROCONTROL, CINEA, EASA, EDA, EUROCAE, EUSPA, SDM and SJU) will host a series of panel debates and briefings on a wide range of topics on their joint stand (H22).
That includes a session on decarbonising aviation with a keynote speech by the ICAO Council President, Salvatore Sciacchitano, followed by an interview with Henrik Hololei, Director General DG MOVE at the European Commission, and ending with a panel session, moderated by Raúl Medina, EUROCONTROL's Director General, focusing on how we can harvest the 10% excess emission from inefficient navigation from a research, deployment and operational perspective.
The Europe for Aviation stand has an official opening ceremony at 12:30 on Wednesday, 8 March, followed by a reception.
You can see their full programme here