Think creatively, think fast
Alex Bristol, CEO skyguide, says air navigation service providers must recognise how much the industry will change.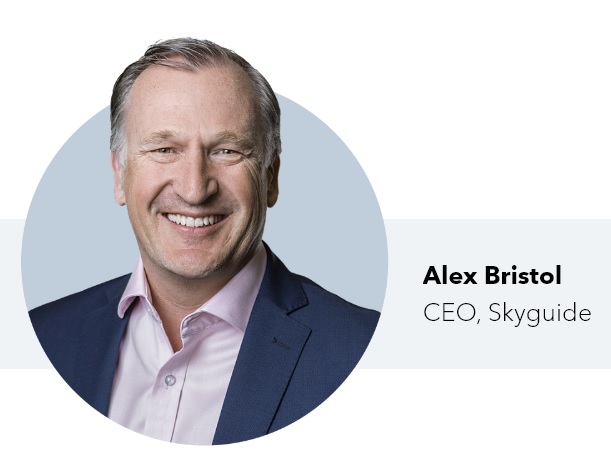 What does good UTM look like and should ANSPs be getting involved in drone airspace?
There was a lot of hype to start with and that has not translated into reality. The business models proposed weren't sustainable. But we are calming down now on ideas and timelines. That is a good thing as it gives us more time to prepare.
Two things are really important for good unmanned (aerial systems) traffic management (UTM). First, UTM does need to be integrated into both controlled and uncontrolled airspace. I can't see how it works if the drones are segregated even though some countries are pursuing that idea. That means that, second, we need to automate.
Does that mean air navigation service providers (ANSPs) have to get involved? Not particularly. But I don't see any burning reason why they can't be involved either. There is certainly a job to do at the interface between controlled airspace and UTM. As long as the people piloting drones know what they are doing – and in most cases with the drones we are concerned with that will be the case – then I am sure our U-space will provide a good level of service.
Of course, there are challenges. In Switzerland, we have transported organs and blood from one hospital to another using drones. But how do we integrate that with the helicopter that has been on a search and rescue mission and needs to know that it is safe to fly directly to hospital? So, there are issues to be resolved but I can imagine more delivery drones and air taxis in the sky in the coming years.
Are the functional airspace blocks (FAB) performing as expected? How do we accelerate the Single European Sky (SES)?
We are a long way away from the original vision. But one or two – including FABEC (FAB Europe Central) – have prompted states to talk to each other at a departmental level in a way that did not happen before.
The move towards SES is being achieved mainly through virtualisation and digitisation. We will get there but it is taking time.
It doesn't help that the SES Performance Scheme isn't aligned with the SES vision. Certain incentives drive the wrong behaviours. We also have a lot of ANSPs and regulators nervous about service-orientated architecture because it does not yet fit into our regulatory frameworks.
Replacing legacy systems is a challenge. If you started from scratch today, you would never create what we have. Trying to implement new technology while still using legacy systems is like trying to do a heart operation while the person is jogging.
Have ANSPs learned lessons from the past two years? In particular, can an ANSP ever be agile enough to deal with future shocks?
There are lessons to be learned although sometimes these are being ignored for political reasons. But ANSPs won't ever have enough variable cost in the business model to cope with a shock like the pandemic. When airlines don't fly they don't pay for fuel, for example. Nothing we have comes close. Even with just a couple of aircraft in the sky, we have about 85% of cost.
The question is whether there is a different business model. Could core ANSP services be part of national critical infrastructure and paid for by government? Then ANSPs could develop capacity and extra services for which the user pays.
Is it possible to combine sustainability with good business decisions?
ANSPs must get to grip with a new business atmosphere where the trade-offs are different. Business decisions in the future will have a different set of drivers.
Even if air navigation service providers like Skyguide are not profit-oriented, we can still operate a sustainable and possibly profitable business in the years ahead if, for example, we strive for an environmentally compatible orientation. We will have to learn to work differently.
What more should ATM be doing to improve its environmental mitigation efforts?
Every ANSP has two strands to deal with in terms of sustainability. The first is what we can do to reduce our own carbon footprint. This means using less or green electricity. Perhaps the cars we use to go to remote sites can be electric. We are even looking at the mobility of staff from home to work. Home working can help reduce the carbon footprint. I only travel to the office half the time now so immediately I cut my carbon footprint in this respect 50%. But this is only a small part of what we can do.
The larger part, and second strand, is how we manage airspace. We can implement direct routes, reduce holding times and so forth. That can have a significant environmental impact and is a huge area of focus. Even if we could only make a 0.2% difference, we have to go for it.
Is technology always the answer? And is there a technology that particularly excites you?
It's not the only answer but it is a pretty good answer! The judicious implementation of the right technology will be vital.
I think that virtualisation, service-oriented architecture, and communication standards will be game changers. It means controllers do not need to be in the same place as the airspace they control. That has, up until now, not been the case. Previously, if you ran out of controllers in one sector then you had a bottleneck problem. But with these technologies you can move airspace control rather than the controllers. That has enormous potential to free up capacity and efficiency.
But it isn't all about technology. Look at airspace structure. In Switzerland, for example, it is not designed to minimise the environmental impact of flights. Airspace structures must change.
Why is diversity important to the aviation value chain?
In skyguide, we have been very proactive in this area in the past couple of years because it makes sense. The more diverse we are, the better the conversations we have. The better the conversations we have, the better the decisions we make. And the better the decisions we make, the better the business results we get. There is a clear pathway. Diversity delivers positive results.
Are there any areas of ATM you feel are being neglected but that could make a difference to efficiency or sustainability?
I would repeat my point about airspace structures. We don't talk about changing them because it is politically difficult and sensitive. But at some point, we must insist on having that conversation. It will be a difficult balancing act though. Different airspace structures will have a major impact.
Also, we have not yet got into our heads how ATM will work in the future. We know we will manage airspace differently and we must start that process now. We are not thinking creatively enough, we are not thinking fast enough. This is why CANSO's Global Council will be so important. We finally have a forum that can prepare us properly for the future.