How collaboration is enabling efficient air transport of vital heathcare services
Brian Gonzalez, Air Traffic Systems Manager for the Latin American region at American Airlines, explores how CADENA is helping to provide vital healthcare services during the pandemic.
The aviation community plays an essential role in the global distribution of COVID-19 vaccines. A collaborative effort between airlines, airports and ATM, it is one of the most crucial partnership efforts of our lifetime. Amidst the challenges, our industry is taking an innovative, coordinated approach to air transport, helping deliver massive quantities of vaccines worldwide safely and quickly. In Latin America and the Caribbean, this important mission has been helped significantly by CADENA.
CANSO champions efficient aviation operations through collaborative air traffic flow management (ATFM) initiatives like the CANSO ATFM Data Exchange Network for the Americas (CADENA). On 31 December 2020, CADENA members – comprising air navigation services providers and airlines – undertook extraordinary regional cooperation and coordination efforts to facilitate the transport of essential vaccines in the region.
CADENA facilitates the safe and efficient movement of air traffic in the Latin America and Caribbean region through effective implementation of ATFM and collaborative decision-making (CDM). These processes and procedures facilitate data sharing and promote a common situational awareness that is vital to the safe, efficient, and harmonised flow of air traffic, particularly during crisis situations.
Supporting vital services
In December, CADENA took advantage of this established collaborative approach, and CADENA member, American Airlines activated the CADENA Planned Airway System Alternatives (PASA) route protocol, requesting a Vaccine Priority Flight with callsign AA957 from Miami (KMIA) to Santiago de Chile (SCEL).
Through an agreed procedure, the dispatcher included "Vaccine Priority Flight" in Field 18 when filing the flight plan. This meant that before AA957 departed from Miami, the air navigation service providers (ANSP) on the route of flight, including Miami, Cuba, Jamaica, Panamá, Colombia, Ecuador, Perú, and Chile, along with American Airlines, CANSO, and IATA, received the request and acknowledged the high priority mission. The ANSPs coordinated an optimum route through their respective flight information region (FIR) and notified air traffic controllers and supervisors who gave priority handling to AA957, ensuring a smooth and efficient journey.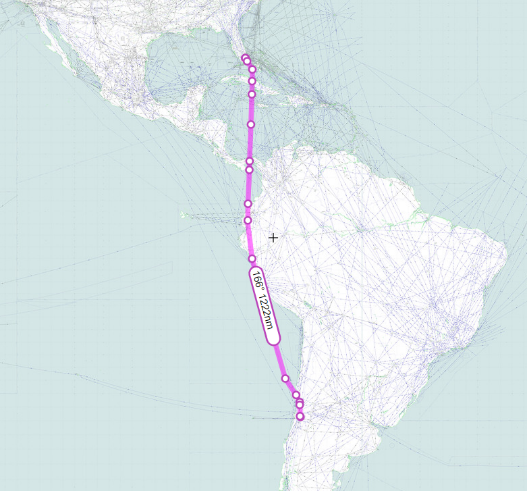 The President of Chile, Sebastian Piñera, the Minister of Health, Enrique Paris, and the Foreign Affairs Minister Andrés Allamand, received the shipment of 11,700 doses of the COVID-19 vaccine which arrived in Santiago (SCEL) on time, thanks to the cooperation and dedication of all involved.
Securing seamless aviation
This success is one example of CADENA's comprehensive regional approach to air traffic management, which is built on trust, cooperation and expertise, and is bringing greater efficiency and shared awareness to the Latin America and Caribbean aviation community.
The CADENA Regional Implementation Group is committed to supporting COVID-19 vaccine flights. To harmonise this multi-disciplinary, integrated approach, CADENA is providing training to airlines and regional ANSPs on the PASA route request push notification, communication, handling and procedures, as well as the Process for Requesting Special Handling/Priority for Flight(s) Carrying COVID-19 Vaccines, published 24 January 2021 by the Federal Aviation Administration. This approach, endorsed by the FAA, NAV CANADA and EOUROCONTROL, includes the insertion of "STS/ATFMX" and "RMK/VACCINE" in Field 18 of the ICAO Flight Plan to identify critical flights carrying COVID-19 vaccines.
CADENA is and will remain critical in helping ensure the smooth transport of vital healthcare services, and we are proud to be a partner in this brilliant CANSO initiative.
To find out more or to get involved, please email lamcar@canso.org.
¿Cómo la eficiencia en el transporte aéreo colabora de una manera vital para la asistencia sanitaria?
Brian González, Gerente de Sistemas de Tráfico Aéreo para la región de América Latina en American Airlines, explora cómo CADENA está apoyando los servicios vitales para la atención médica durante la pandemia.
La comunidad aeronáutica juega un papel esencial en la distribución global de las vacunas para el COVID-19. La colaboración entre aerolíneas, aeropuertos y gestión de transito aéreo, es el compromiso más importante de nuestra vida. En medio de los desafíos, nuestra industria está adoptando un enfoque innovador y coordinado en el transporte aéreo, lo que ayuda a distribuir de una forma segura y rápida cantidades masivas de vacunas en todo el mundo. En América Latina y el Caribe, CADENA esta apoyando significativamente a esta importante misión.
CANSO promueve operaciones aeronáuticas eficientes a través de iniciativas colaborativas de gestión del flujo de tránsito aéreo (ATFM) como la Red de intercambio de datos ATFM de CANSO para las Américas (CADENA). El 31 de diciembre de 2020, los afiliados de CADENA, incluidos los proveedores de servicios de navegación aérea y las aerolíneas, realizaron esfuerzos extraordinarios de cooperación y coordinación regional para facilitar el transporte de vacunas esenciales en la región.
CADENA facilita el movimiento seguro y eficiente del tránsito aéreo en la región de América Latina y el Caribe a través de la implementación efectiva de ATFM y la toma de decisiones colaborativa (CDM). Estos procesos y procedimientos facilitan el intercambio de datos y promueven una conciencia situacional común que es vital para el flujo seguro, eficiente y armonizado del tránsito aéreo, particularmente durante situaciones de crisis.
Apoyando los servicios vitales
En diciembre, CADENA aprovechó este enfoque de colaboración, y American Airlines activó el protocolo de CADENA denominado Sistema Planificado de Rutas Alternas (Planned Airway System Alternatives – PASA), solicitando un vuelo prioritario de vacunas con indicativo AA957 desde Miami (KMIA) a Santiago de Chile (SCEL).
Mediante un procedimiento acordado, el despachador incluyó "Vuelo prioritario de vacunas" en el Campo 18 al presentar el plan de vuelo. Esto significó que antes de que el vuelo AA957 despegara de Miami, los proveedores de servicios de navegación aérea (ANSP) en la ruta del vuelo, incluidos Miami, Cuba, Jamaica, Panamá, Colombia, Ecuador, Perú y Chile, junto con American Airlines, CANSO e IATA, recibieron la solicitud y reconocieron la misión de alta prioridad. Los ANSPs coordinaron una ruta óptima a través de su respectiva región de información de vuelo (FIR) y notificaron a los controladores y supervisores de tránsito aéreo, mismos que dieron prioridad al manejo del vuelo AA957, asegurando un viaje fluido y eficiente.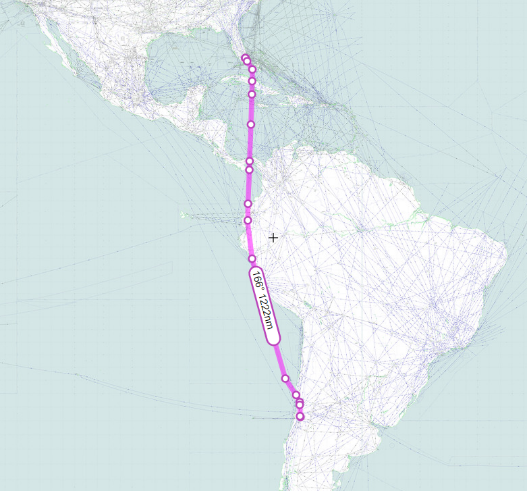 El presidente de Chile, Sebastián Piñera, el ministro de Salud, Enrique Paris, y el canciller Andrés Allamand, recibieron el envío de 11.700 dosis de la vacuna COVID-19 que llegaron a Santiago (SCEL) a tiempo, gracias a la cooperación y dedicación de todos los involucrados.
Asegurando la aviación sin interrupciones
Este éxito es un ejemplo del enfoque regional e integral de CADENA para la gestión del tránsito aéreo, que se basa en la confianza, la cooperación, la experiencia, y está brindando una mayor eficiencia y conciencia compartida a la comunidad aeronáutica de América Latina y el Caribe.
El Grupo de Implementación Regional de CADENA esta comprometido en apoyar los vuelos que transportan la vacuna para el COVID-19. Armonizando este enfoque multidisciplinario e integrado, CADENA está brindando capacitación a las aerolíneas y los ANSPs regionales sobre la notificación automática, comunicación, manejo y procedimientos de solicitud de las rutas PASA, así como el proceso para solicitar el manejo especial/prioridad de los vuelos que transportan las Vacunas COVID-19, publicado el 24 de enero de 2021 por la Administración Federal de Aviación (FAA). Este enfoque, avalado por la FAA, NAV CANADA y EUROCONTROL, incluye la inserción de "STS/ATFMX" y "RMK/VACCINE" en el Campo 18 del Plan de Vuelo de la OACI para identificar los vuelos críticos que transportan vacunas para el COVID-19.
CADENA es y seguirá siendo fundamental para ayudar a garantizar el transporte fluido de los servicios vitales para la asistencia sanitaria, y estamos orgullosos de formar parte de esta brillante iniciativa de CANSO.
Para obtener más información o para participar, envíe un correo electrónico a lamcar@canso.org.