Forever shaping future skies
airspace has delivered 50 issues and become a major forum for industry debate.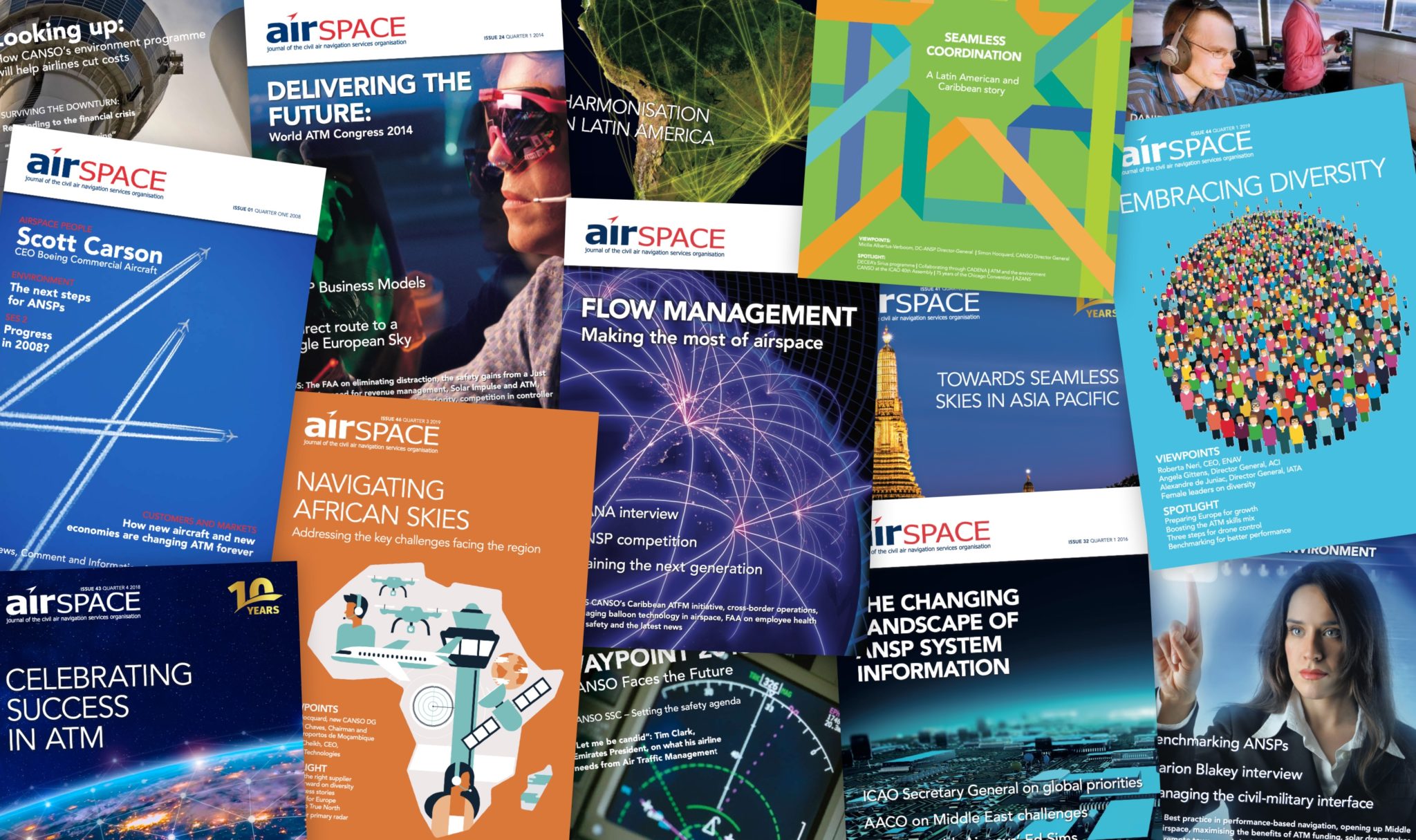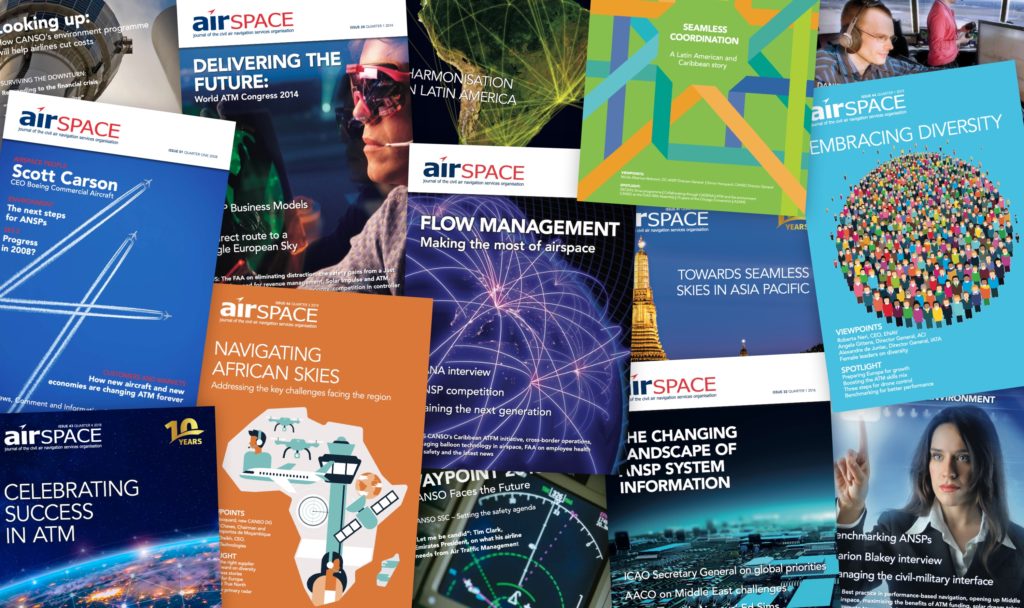 So much has happened since airspace started in 2008 that it might seem as if air traffic management (ATM) is a completely different industry. There have been crises, new initiatives and revised procedures – and, of course, innovative technologies, from system-wide information management (SWIM) to the advent of blockchain.
But the overall thrust is resoundingly familiar. The desire to make skies safer, greener, and more efficient is a constant.
There were even topics discussed in 2008 that would need only minor modification to be relevant today. In 2008, airspace ran "Single European Sky – Hopes for Real Progress", "Integrating the Unknown" on drones, and "The Next Steps" on the environment. There was even an article on financial sustainability inspired by the 2008 austerity crisis.
Sustainable, safe and seamless
The environment still ranks high on the agenda, with many observers believing that a commitment to a zero carbon future is essential if aviation is to resume previous growth trends.

In 2008, then Chairman of the CANSO Environment Workgroup, Phil Stollery, insisted that "ANSPs have a significant part to play and ought to be highlighting their contribution publicly". CANSO took the lead and soon joined with other aviation associations to set tough environmental industry goals.

Today, CANSO is a key partner in Way Point 2050, a global initiative which continues to pull the industry together around common ambitions. It's also part of Destination 2050 within Europe, which aims to achieve a series of improvements, including a 6% emissions reduction through air traffic management enhancements.

Over the years, the environment has benefitted from ATM operational upgrades, such as performance-based navigation (PBN), free route airspace, and air traffic flow management (ATFM).

All these, of course, have significant safety benefits as well. PBN – which was still awaiting introduction in 2008 – is now widespread and the foundation for many detailed projects to improve air traffic services. PBN can increase capacity, reduce the workload of air traffic controllers, and deliver time, fuel and emission savings.

Another major safety milestone has been the introduction of space-based automatic surveillance dependent – broadcast (ADS-B). In 2008, CANSO was leading the charge for the ground-based version, doing pioneering work in the South China Sea region.

The aim at that time, as airspace noted, was to "provide more efficient routing and operations as well as increased airspace capacity".

Space-based ADS-B is now operational and CANSO's partnership with Aireon is providing crucial data to the industry, boosting safety in real-time and facilitating analysis of long-term trends.
Building blocks
Space-based ADS-B is also a crucial element in shaping future skies. This intent to improve oversight and operational parameters has always been apparent.

For example, in 2008, the CANSO Chair, Ashley Smout, then Airways New Zealand CEO, wrote an article for airspace that called on governments to put in place the building blocks for a Seamless Asian Sky.

He worried that "without addressing the key issues, the Asia Pacific region will face serious capacity problems". The pandemic has temporarily alleviated most congestion issues but a Seamless Asian Sky is still on the agenda and making great progress.

A key element has been the implementation of ATFM. CANSO played a central role in a multi-nodal ATFM network that has significantly improved the efficiency of flights between key city pairs in the region.

ATFM has also taken hold in other regions. A few years ago, CANSO launched its ATFM Data Exchange Network for the Americas (CADENA). The success of the project has led CANSO to offer an improved platform – the CANSO Air Traffic Flow Management (ATFM) Data Exchange Network for Cooperative Excellence (CADENCE) – to all regions.

ATFM, like most of the other challenges highlighted, is based on best practice in information sharing. The idea of working together to share resources, standardise procedures and optimise efficiency was in its infancy in 2008. ANSP alliances were still working out ways to cooperate. Now, Functional Airspace Blocks and SWIM are bringing the perfection of partnership even closer to fruition.

The advent of unmanned aircraft systems (UAS) or drones will also positively affect the collaborative model. UAS traffic management (UTM) wasn't the terminology of the day but 50 issues ago airspace was talking about integration activity.

Huge strides have been made since then and many ANSPs and other stakeholders have brought solutions for drone integration to market. Airservices Australia, for example, has developed the National Emerging Aviation Technologies (NEAT) policy with its partners. The integrated airspace model this envisages will safely incorporate drones.
Our journey ahead
Over 50 issues, airspace has strived to provide insight into the changing nature of air traffic management. And while some of the subjects remain the same, the urgency with which our industry needs to tackle them has become greater.

Our ecosystem is evolving, indeed such evolution may well turn into revolution as changes brought on by the pandemic and new technologies take hold. New entrants to airspace are not as new as before, indeed they became a mainstay of remote airborne mobility during the grounded days of 2020. And efforts on the environment must also dial up, for every day our world has spent with quieter skies, the greater our capacity to find new ways to innovate and manage air transport more sustainably once traffic returns.

Ultimately, we need to be ready to connect on these challenges, and get ahead of the game. We need to share our successes and learnings, and grow from these experiences.

So as we continue to define our path and embrace the expertise and innovation of our industry, airspace will continue to unlock the key issues of the day and play its part in shaping future skies.