CANSO and EASA explore the role of air navigation service providers (ANSPs) in future ATM and U-Space provision
Jan Klas, Chair of CANSO Europe's CEO Committee, welcomes discussions with the EU Aviation Safety Agency (EASA) Executive Director on the evolution and emerging challenges of air traffic management in Europe.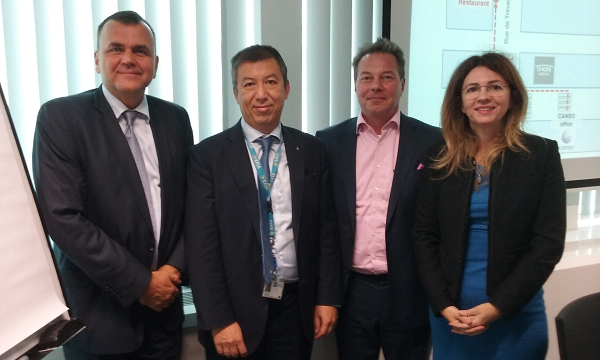 CANSO Europe's governing body, EC3, was yesterday very pleased to host Patrick Ky, the Executive Director of EASA. In an open and fruitful meeting, our CEOs had the chance to present our vision for the future and our position on issues like the environment, safety, drones and the future of the Single European Sky.
CANSO Europe members highlighted how we have been actively involved in progressing the Single European Sky, including providing our expert input to the Airspace Architecture Study and co-signing the Joint Stakeholder Declaration on the future of the Single European Sky, which addresses many of the issues we discussed.
We also reaffirmed the important role that ANSPs will play in delivering safe, efficient and secure U-Space in Europe, while also ensuring safe integration with manned air traffic management systems. We highlighted that the draft Regulation on U-Space will need to address issues such as situational awareness, clear liabilities, responsibilities and costs, while maximising airspace capacity. This will require a flexible framework to maintain today's safety standards, and must ensure neutrality and independence in the provision of critical functionalities based on safety, security, privacy and efficiency criteria. It must also permit airspace integration and enable equal access for whichever players can provide service quality without hampering safety levels.
In addition, we emphasised our activities to address the growing pressure on the aviation community regarding climate change. We confirmed our commitment to applying and implementing technologies and operational procedures which will reduce aviation-related emissions, partly thanks to the implementation of the SESAR Programme.
CANSO members remain strongly committed to cooperating with EASA in order to provide our expertise. Yesterday's exchange of views will allow us to enhance our cooperation on all air traffic management matters covered by EASA.
I believe that this fruitful exchange will bring our organisations closer. The implementation of U-Space is one of the biggest challenges we will face in the near future. The ongoing U-Space demonstrations within SESAR clearly show ANSPs' ability to partner successfully with various emerging industry players.