Studying, using and improving operational performance
Improving Air Traffic Management (ATM) performance is on a lot of Air Navigation Service Providers' (ANSP) minds these days. As global air traffic heads back to its previous levels, it is important that air traffic services are delivered in a way that minimises delays to its customers and also reduces the impact of aviation on the environment. Paying close attention to an ANSP's operational performance and working to improve it is a best practice for ANSPs around the world.
Descriptions of air navigation Key Performance Areas (KPAs) and Key Performance Indicators (KPIs) are reflected in a number of guidance documents from ICAO, Eurocontrol, and other international aviation organisations.
Despite the longer-standing and comprehensive ICAO documents Manual on the Global Performance of the Air Navigation System (Doc 9883) and the Global Air Navigation Plan (GANP, Doc 9750), ICAO's working paper A40-WP/212 TE/90 2/8/19 notes that: "today there is a lack of guidance material to assist States in implementing and monitoring the KPI." This important work is to be undertaken by the existing Global ICAO Performance Expert Group (GIPEG) in 2020-2022.
CANSO attaches great importance to the study, use and improvement of operational performance among ANSPs and other ATM stakeholders. Our Operational Performance Workgroup (OPWG) is engaged in those activities and focusing on the KPAs of capacity, efficiency and predictability.
In 2015, the CANSO OPWG published the guidance document Recommended Key Performance Indicators for Measuring ANSP Operational Performance. This contained detailed explanations of their recommended KPAs and KPIs for use by ANSPs.
More recently, the OPWG has been improving its understanding of how ANSPs worldwide are measuring, applying and developing future plans for implanting operational KPIs and KPAs related to capacity, efficiency and predictability.
To accomplish this, the OPWG prepared a set of 16 questions, known as the Performance Metrics Survey. In March 2021, the questionnaire was sent to CANSO stakeholders and answers were received and analysed in early May 2021. The total number of participants represented 20% of all CANSO ANSP members, which limited the comprehensiveness of the survey results, but still provided some key insights. Based on the available material, the OPWG prepared the Report Of Performance Metric Survey (ROPMS). A number of observations and conclusions of the OPWG are presented in the report.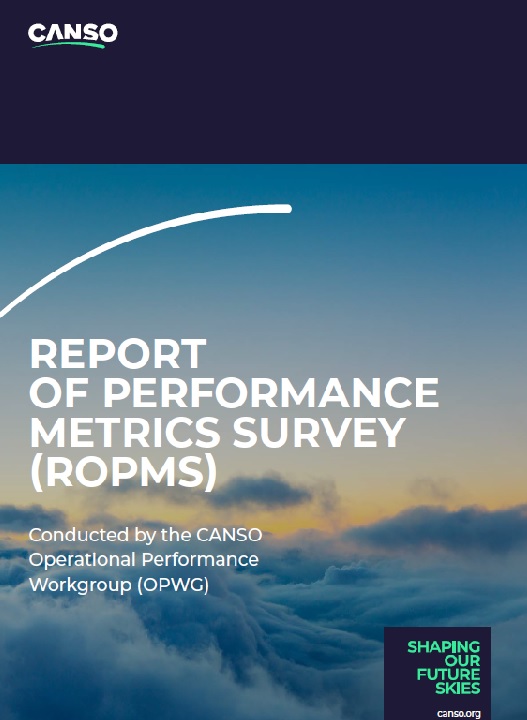 The information from the ROPMS is helping each survey participant determine where they stand relative to other CANSO members with regards to their consideration and implementation of operational performance indicators, identification of gaps and key challenges, and evaluation and comparison of their expectations with other participants.
Notably, the survey results identified an interest by some ANSPs to implement appropriate performance indicators related to environmental protection. The survey also revealed the desire of some ANSPs to automate metrics collection, data processing and the quantitative analysis of performance indicators used in ATM. The ROPMS document will be of interest not only to survey participants, but also to other groups and committees of CANSO and other CANSO stakeholders. With the development and publishing of this important CANSO performance metrics report, the CANSO OPWG is doing its part to increase global understanding of ANSP performance measurement and improvement.
Download the full report here.
If you have any feedback or questions about the report please email Operations@CANSO.org.