ASECNA
Organisation overview
ASECNA, the Agency for Air Navigation Safety in Africa and Madagascar, is an international public organization composed of 18 Member States; 17 African States and France (Benin, Burkina Faso, Cameroon, Central African Republic, Chad, Comoros, Congo, Ivory Coast, Equatorial Guinea, France, Gabon, Guinea-Bissau, Madagascar, Mali, Mauritania, Niger, Senegal, and Togo).
Created in 1959, its main mission is to provide air navigation services, aeronautical information services and aeronautical meteorology services within a single airspace of more than 16 million square kilometres, corresponding to the airspace under the jurisdiction of its Member States and to oceanic airspace in central Atlantic Ocean, Gulf of Guinea and Indian Ocean entrusted by the international community. ASECNA provides fire fight services at 32 aerodromes of its Member States; and in-fight calibration service for its own needs and for third parties.
To ensure its community mission in Member States, ASECNA has representation in the 17 African Member States and a delegation in Paris. ASECNA has delegations to ICAO in Montreal and the African Union in Addis Ababa for close cooperation with these two institutions.
ASECNA provides, under a specific contract, airport management service at the request of some of its Member States (Bissau Guinea, Burkina Faso, Central African Republic, Chad, Gabon, and Niger.)
ASECNA has three training schools to train its staff and third parties: the African School of Meteorology and Civil Aviation (EAMAC) in Niamey, Niger; the Regional School of Fire Fight (ERSI) in Douala, Cameroon; and the Regional School of Air Navigation and Management (ERNAM) in Dakar, Senegal.
Member Information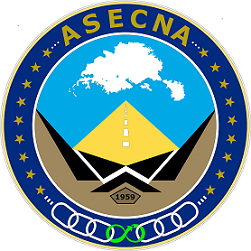 Membership Type: Full Member
Country: Senegal
Telephone number: +221 33 849 66 00
Fax number: +221 33 823 46 54
E-mail: contact@ASECNA.aero
Head office:
32-38 Avenue Jean Jaures BP : 3144 Dakar, Senegal