CANSO Safety and Operations' Workgroups and Task Forces Meeting 2023
Members of CANSO's Safety or Operations Workgroups and Task Forces are invited to a joint CANSO Safety and Operations' Workgroups and Task Forces meeting on 7 to 9 February 2023.
Kindly hosted by DFS at its headquarters in Langen, Germany (near Frankfurt), our event will give us the opportunity to meet face to face, in our respective groups and across all the others, for three days of planning, debate, and networking.
The main objective of us getting together is for us to work on our respective plans for the coming year and, where necessary, to collaborate with other workgroups and task forces.
While we are still pulling together our full programme, we will start and end the event with a full plenary session, while the rest of the time will be dedicated to working meetings of each workgroup or task force.
We very much look forward to seeing you for a productive three days in February.
Practical Information
Location
Langen is a town located between the rivers Rhine and Main and is home to the campus of DFS Deutsche Flugsicherung GmbH. The Rhein-Main-Area is a metropolitan region with a total population exceeding 5.8 million, encompassed by the cities of Mainz, Wiesbaden and Darmstadt.
Located approximately 30 minutes from Langen is Frankfurt, the finance capital of Germany. The Messe Frankfurt is one of the world's oldest and largest trade fairs. Frankfurt is the only city in Germany, which has a skyline like a North American city with several high rising buildings.
Accomodation
The nearest hotel is the The Mercure Hotel Frankfurt Airport Langen, Robert Bosch Straße 26, 63225 Langen. It is within an easy walk of the DFS Head Office.
To book your accommodation, email the hotel with your request at HB4G0@accor.com or call them on 49 (0)6103 9720. Please mention CANSO when making your enquiries.
Visa Information
There are a number of countries whose citizens are required to obtain a valid visa to enter Germany. For more information about obtaining a visa, please visit https://www.auswaertiges-amt.de/en and click on Visa&Service.
Travelers who are a national of, or who hold a visa valid for one of the Schengen countries, may enter Germany without a formal visa.
Time Zone
The time zone in Langen is UTC/GMT 1 hour.
Language
German is the official national language spoke in Langen although English is widely spoken. The CANSO Operations and Safety Workgroups and Task Forces Meeting 2023 will be conducted in English, and any materials related to the conference will be available in English.
Currency
The currency in Germany is the Euro. One EUR is approximately 1.04 USD. For the latest exchange rate, we recommend using a currency converter. If you require cash after your arrival in Germany Frankfurt International Airport provides currency exchange services.
Bank/ Credit Cards
Visa and MasterCard are usually accepted in German cities, however many restaurants and bars accept cash only. It is possible to withdraw cash at a variety of ATMs found within Langen and Frankfurt and Frankfurt International Airport.
Tipping
Service charge is usually included in the bill in most restaurants in Germany. It is also recommended to round up your bill to the nearest whole number. To tip 5 – 10 % of the bill is a good idea if you are satisfied with quality and service.
Electricity
Germany uses the 230V AC at a frequency of 50 Hz. Two point electrical plugs are standard in Langen.
Climate
In February the climate in Langen will be colder, with average temperatures reaching a high of around 6° Celsius (42°F). Temperatures at night can drop to below freezing (0°C or 40°F).
Transport from Frankfurt airport
Frankfurt International Airport is located an approximate 15 minute drive from the Mecure Hotel in Langen. The hotel offers a complimentary shuttle service departing from Frankfurt International Airport, Terminal 1.
The quickest public mode of transport from Frankfurt International to Langen is to take bus OF-64 leaving from Terminal 1, platform 20, every 30 minutes from 11 minutes past the hour to Dreieich-Buschshlag station and change to the S-Bahn (S3/S4 direction Langen/Darmstadt).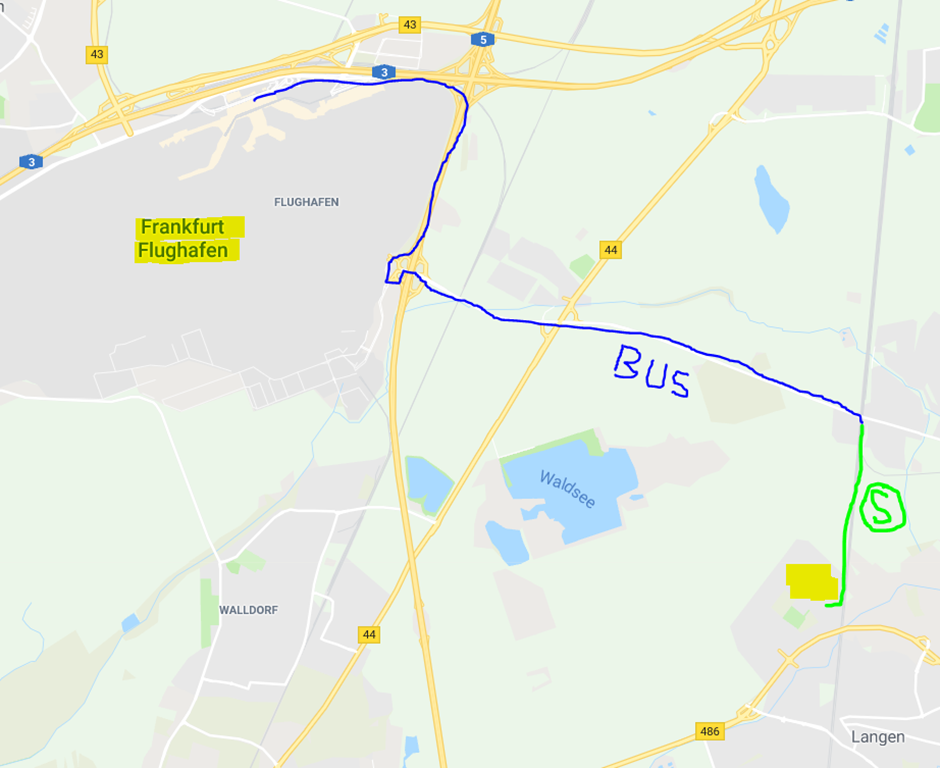 DFS has its own train station called Langen-Flugsicherung.
Transport within the Rhine-Main-Area
The Rhine-Main-Transport-Association (RMV) runs an extensive traffic network in the area, combining trains, metros, trams and bus. You can use the whole network with one ticket sold at the station from vending machines, The S-Bahn line 3 will take you to downtown Frankfurt, stations Hauptwache and Konstablerwache within 15 minutes. The S-Bahn departs Langen-Flugsicherung every 15 minutes, for more information please find timetables here.
Water
Tap water is drinkable in Germany and of excellent quality. If you wish to buy bottled water Mineralwasser is still water and Sprudel is sparkling water.
Emergency Services
In case of an emergency, dial 110 for the police or 112 for the fire brigade and ambulance service (free of charge). The emergency hotline on the DFS Deutsche Flugsicherung GmbH campus landline phones is 8888. If you need assistance from DFS Deutsche Flugsicherung GmbH, call 49 6103 707-0
Register here. Please note that attendance is for Members of the Workgroups, Task Forces, and Steering Groups only. If you work for a CANSO Member organisation but are not a member of one of these, and would like to attend to find out more, please email Safety@CANSO.org with your request.
The slides from this event are available to CANSO Members.
To register please login here  or request/reset your password here.
Once you have logged in, you may have to use your internet browser's back button to come back to this page.
Registrations will be monitored closely and attendance by those who do not meet the criteria above is not guaranteed.