Digitising ATM in Asia Pacific
Peter Gridling, Head of Sales, FREQUENTIS DFS Aerosense gives the associate member view of the CANSO Asia Pacific Conference 2019.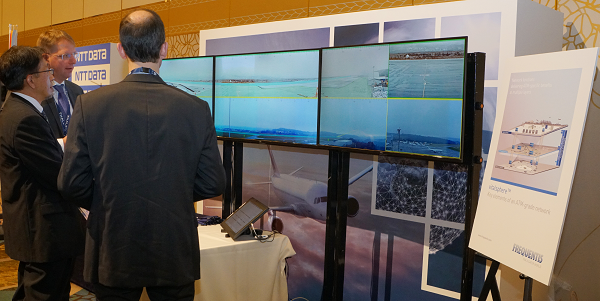 Asia Pacific is one of the busiest regions for air transport and it was important to attend the CANSO Asia Pacific Conference 2019 in Fukuoka, Japan, hosted by Japan Air Navigation Services (JANS) and convened to address regional and global ATM challenges.
Air travel is more popular than ever and continuous growth and demand is pushing the industry into a capacity climax. Air traffic is expected to double in the next two decades and with it grow the complexities of managing the airspace. It is now about working smarter, being adaptive to change and attracting and investing in the young professionals we urgently need to take on the roles of future pilots, air traffic controllers and engineers.
Digitisation, cyber security and artificial intelligence were key programme topics at this year's CANSO Asia Pacific Conference and as part of the exhibition Frequentis was proud to demonstrate its contribution to all three areas. Digitisation is the main theme for implementing the future digital towers driven by the Frequentis smartVISION remote tower; cyber security and cyber safety go hand in hand, making ATM both robust and resilient against cyber-attacks; and artificial intelligence is without doubt entering the ATM stage, starting with controller support tools for managing air traffic at airports.
As explored at the conference, remote towers have created an exciting opportunity to enhance the way air traffic is monitored and managed and reduce the cost of operations, and we noted that both remote towers and drone detection are of key interest in countries such as India, Vietnam, Thailand, Singapore, Mongolia and Japan.
Having just announced the successful operational use of a remote tower at Jersey airport in the British Isles, and the first time the European Aviation Safety Agency (EASA) has given a remote tower its regulatory approval, we decided to focus our remote tower demonstration at the conference on this scenario. We also focussed on explaining the importance of an ATM-grade network for ensuring safe and high-quality connectivity for this new operational use case.
The CANSO Asia Pacific Conference 2019 received an extremely high turnout, with attendees highly motivated and inspired by the new technology and benefits that would enable them to address the rate of expansion in the Asian market. It was great to be able to share our technological developments and industry knowledge with the region. Together we can tackle the challenges and navigate the future of ATM in Asia Pacific.