Airspace World theatre schedules announced
CANSO has announced the current schedule of debate and discussion lined up in each of the four theatres that will form the heart of Airspace World 2023, the world's biggest air traffic management event, taking place at the Palexpo Center in Geneva, Switzerland.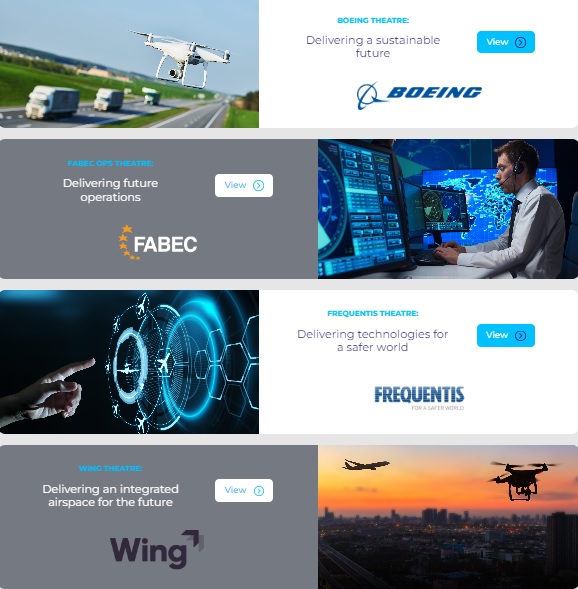 The opening sessions from each theatre give attendees a taste of what to come, as the full agenda is finalised. All sessions take place on Wednesday 8 March, at the times shown.
Boeing Theatre – Delivering a sustainable future
10:30-11:25
The industry has set itself a target of net-zero carbon by 2050. For some, this is aspirational, relying as it does on government support to industry in areas such as sustainable aviation fuel development and research into hydrogen or electric propulsion. For others, it is realistically attainable.
This panel will ask if the 2050 target realistic or aspirational, and is ATM low hanging fruit or part of a complex eco-system of partnerships, all of whom have roles to play?
Moderator
Haldane Dodd, Executive Director, ATAG
Speakers
Malcom An, Senior Managing Director, Global Strategic Initiatives, Boeing
Hemant Mistry, Director of Energy Transition, IATA
Michiel van Dorst, CEO, LVNL
Marylin Bastin, Head of Aviation Sustainability, Eurocontrol
Christian Kern, Director of ATM: Austrocontrol
FABEC OPS THEATRE: Delivering future operations
10:30-11:15
In this opening session, Alex Bristol, CEO skyguide and Chairman, CANSO, is joined by Claudio Clori DG ANA Luxembourg and Chairman, FABEC ASB, to discuss the partnership between the two organisations and how they are working together to improve ATM operations throughout Europe.
Frequentis Theatre: Delivering Technologies for a Safer World
10:30-11:20
Opening Session: Delivering technologies for a safer world
This panel will consider the challenges of implementing new technology and potential solutions, and perhaps most critically what might be done to speed up implementation.
Moderator
Andrew Charlton, Aviation Advocacy
Panellists
Stephen P. Creamer, Director, Air Navigation Bureau, ICAO
Tim Arel, Chief Operating Officer, Federal Aviation Administration, Air Traffic Organisation
Hermann Mattanovich, Chief Technology Officer, Frequentis
Klaus Meier, Director Engineering & Technology, Skyguide
WING THEATRE: Delivering an integrated airspace for the future
10:30 – 11:20
Opening Session: Delivering an integrated airspace for the future
Designing the evolution of the current ATM system to a future, global, harmonised, digital ATM architecture in order to safely integrate a new diverse set of users is one of the most difficult but exciting challenges facing our industry today and this will be the subject of this panel.
Panellists
Martin Rolfe, Chief Executive, NATS
Parimal Kopardekar Phd – Director, NASA Aeronautics Research Institute (NARI)
Reinald Negron – Head Of UTM, Wing
Andres Van Swalm – CEO, UNIFLY
Richard Parker – Chief Executive, Altitude Angel
Simon Hocquard, Director General CANSO, said: "When we announced Airspace World we had the clear intent of creating an event that will help shape our future skies for the benefit of our entire air traffic management industry and those who rely on it. Our four theatres will bring together the key thought leaders in aviation to identify the ways we can do just that, and so I am pleased we can now share the ever-growing list of talks and panel discussions we have lined up."
You can see each theatre's current programme of events here, with more sessions to be announced soon. Look out too for the upcoming fully interactive agenda, which will allow you to search by time and topic, and have details of Airspace World's fifth theatre, which is being delivered by SESAR.