Aerial & Maritime and IATAS enter into strategic partnership
Aerial & Maritime and IATAS enter into strategic partnership to deliver industry-first ATM solutions with integrated surveillance data on an OPEX model.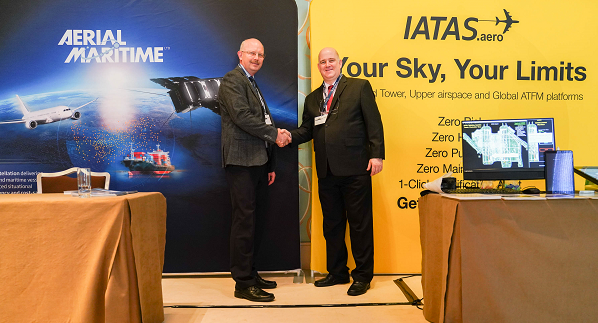 To meet increasing marked interest for OPEX-based business models, the provider of space-based ADS-B data, Aerial & Maritime, is entering into a non-exclusive strategic partnership agreement with IATAS to offer ATM solutions with integrated space-based ADS-B data as a service. This cooperation will fully demonstrate the concept of cost-effective ADS-B data from nano-satellite technology in combination with tailored and scalable ATM solutions, available on a per-operation model.
Aerial and Maritime Ltd (A&M) is deploying global Space Based ADS-B reception capability from Space in two stages. A&M is deploying ADS-B receivers Onboard cost effective Nano Satellites, first with an Equatorial coverage from 2020 followed by larger constellation, providing full global coverage. This service build-up will enable first a situational awareness tool for ATM and full global surveillance of Aircraft, with data to delivered to Air Traffic Management standards.
A&M is partnering with IATAS to bring our data to use for ATM on across IATAS platforms.
"This partnership is an important step for our services, to demonstrate the useability and quality of our data for ATM" says Karsten Ingemann Pedersen, CEO of A&M. "We look forward to this cooperation with IATAS, to deliver a comprehensive ATM platform delivering both Surveillance data and the platform to be utilized for Air Traffic Services".
IATAS is an ATC/ATM solutions and service provider, focusing on delivering exceptional organisational and operational benefits to Air Navigation Service Providers, airports and airlines. IATAS provides its scalable solutions for upper airspace management, A-SMGCS and automated clearance delivery, all-weather pilot situational awareness, all on a per-operation service model without the need for an upfront purchase.
IATAS is partnering with A&M to deliver high-reliability ATM and ATC solutions with quality and accurate Surveillance data.
"This partnership will demonstrate IATAS solutions to be operational with built-in surveillance data" Says Ori Shloosh, CEO of IATAS. "We are looking forward to the A&M strategic partnership, and excited to offer reliable solutions to aviation stakeholders of any size, with built-in surveillance data on a per-operation model, without an upfront purchase."