A green deal for European aviation: ESSP and Viasat seal an agreement to commercialise the iris air traffic programme
Viasat, through its recently acquired business Inmarsat, today signed a long-term contract to appoint ESSP (European Satellite Services Provider) as Service Provider for the Iris air traffic modernisation programme, as the final preparations for pre-commercial operations take place.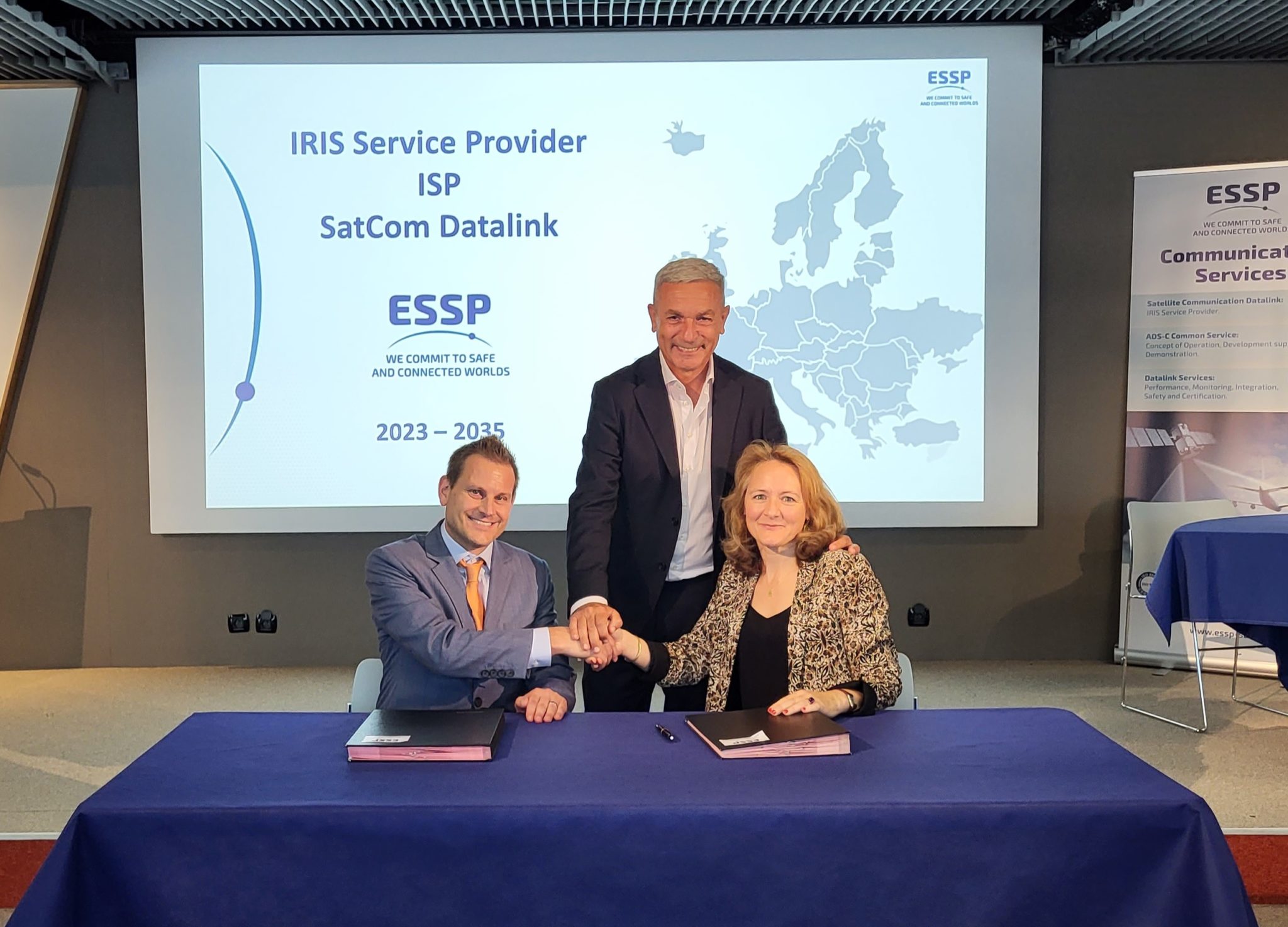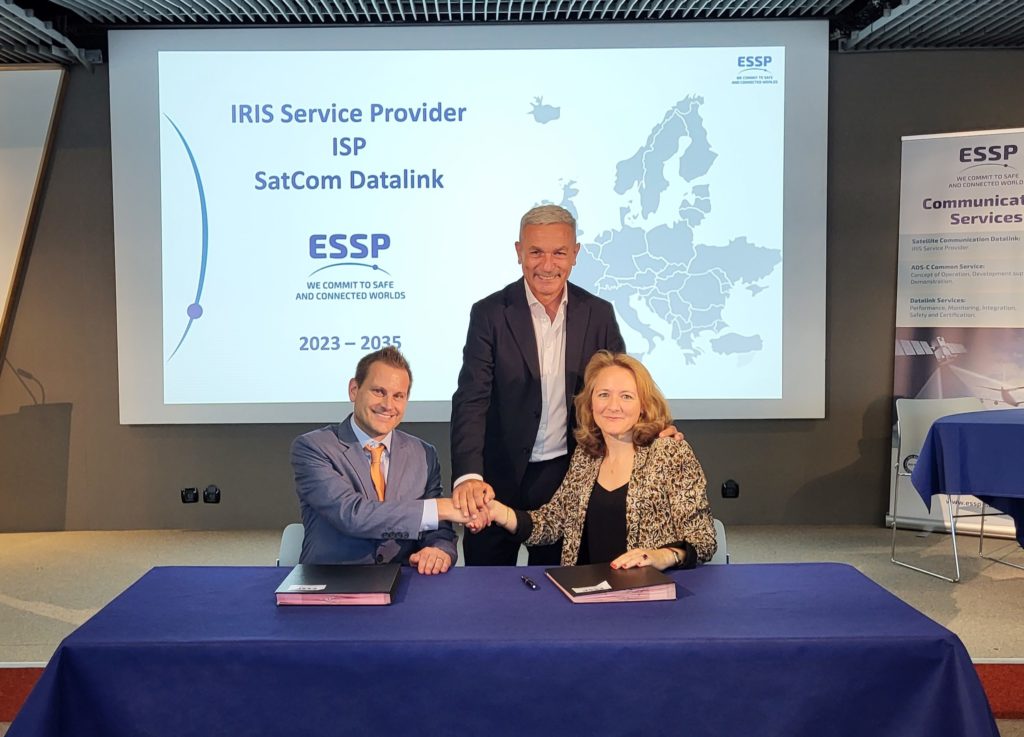 (L-R): Joel Klooster, SVP Aircraft Operations and Safety, Viasat; Antonio Garutti, Head of Telecommunications System Projects Office, ESA; Charlotte Neyret, CEO, ESSP SAS
ESSP will operate, provision, and lead the Iris service commercialisation to European Air Navigation Service Providers (ANSPs), including managing completion as the first Pan-European company certified for satellite-based communication service by the European Aviation Safety Agency (EASA).
Led by the European Space Agency (ESA), Iris enables aircraft to fly more fuel-efficient routes by providing digital satellite communications to complement VHF data link, which is nearing a capacity crunch in congested airspace. By digitally connecting the ATM ecosystem, it enhances collaboration between pilots and air traffic controllers to maximise airspace use and reduce the impact of disruptions for passengers, while also reducing emissions through the use of 4D Trajectory-Based Operations.
Sharing these trajectories through uncongested, high-bandwidth ELERA satellite communications allows flights to cruise at optimum altitudes and use continuous climb and descent paths, saving fuel and reducing aviation's environmental impact. Without fast and reliable data links between aircraft and the ground, air traffic managers cannot unlock the 8-10% reduction in CO2 emissions identified by EUROCONTROL from improved Air Traffic Management (ATM).
Iris will enter commercial and operational service fully in Europe next year with airlines including easyJet and ITA Airways, supporting the Single European Sky's ATM Research (SESAR) masterplan.
Charlotte Neyret, CEO of ESSP, said: "ESSP strongly believes in Iris as a pioneering Europe-wide satellite communications data link programme and we are committed to developing, operating, and commercialising it for Europe at this early stage. ESSP is proud to contribute as a service provider to the expansion of Iris technology, which will bring a wide range of benefits to the aerospace industry, as Iris will allow the development of new environmentally friendly routes, which will improve ATC management, reduce fuel costs, and finally lead to the deployment of more efficient air operations, to name just a few of the programme's strengths".
Javier Benedicto, Acting Director of Connectivity and Secure Communications at ESA, said: "We are proud to support the space-enabled digitalisation of Europe's skies, which will help to make aviation greener. ESA developed the Iris system in partnership with Inmarsat and we look forward to seeing it certified so that European citizens can benefit from shorter journey times and greener travel. Iris is a great example of how ESA is accelerating the use of space for a green future."
Joel Klooster, Senior Vice President Airline Operations and Safety for Viasat's recently acquired Inmarsat business, said: "ESSP has been appointed as Iris Service Provider at a pivotal moment, as we enter the final phase of pre-commercial operations for this ground-breaking programme and prepare for the start of commercial service over the next year. This is an important milestone, not only for Iris, but the aviation industry as a whole. While it can seem overwhelming and difficult as individuals or organisations to make a difference to climate change, when we come together working across the ecosystem, as partners with a shared goal, we can make a big difference."