A blueprint for future skies
The CATS Vision Roadmap will facilitate an aviation system that powers sustainable global mobility and prosperity.
The Complete Air Traffic System (CATS) Global Council has launched a roadmap for its 2045 vision. The aim is a seamless, sustainable sky for all airspace users.

The first-of-a-kind Global Council drew on the experience of 71 leaders from 55 organisations across the manned and unmanned aviation industries to develop the roadmap, the diversity integral to achieving an end result that takes into account all stakeholder objectives. Equally vital was a flexible template that retains a focus on the end goal and user needs in the airspace.
"Once we had a consistent format, we identified the critical milestones along the way, debated anything that needed to change and discussed the timings," says Eduardo Garcia, CANSO Manager European ATM Coordination and Safety. "Then we started to fill in the gaps. At all points, stakeholders were asked to review and ensure the plans were not only deliverable but also would achieve the outcomes desired."
CATS Global Council Roadmap (click the image to see the full roadmap)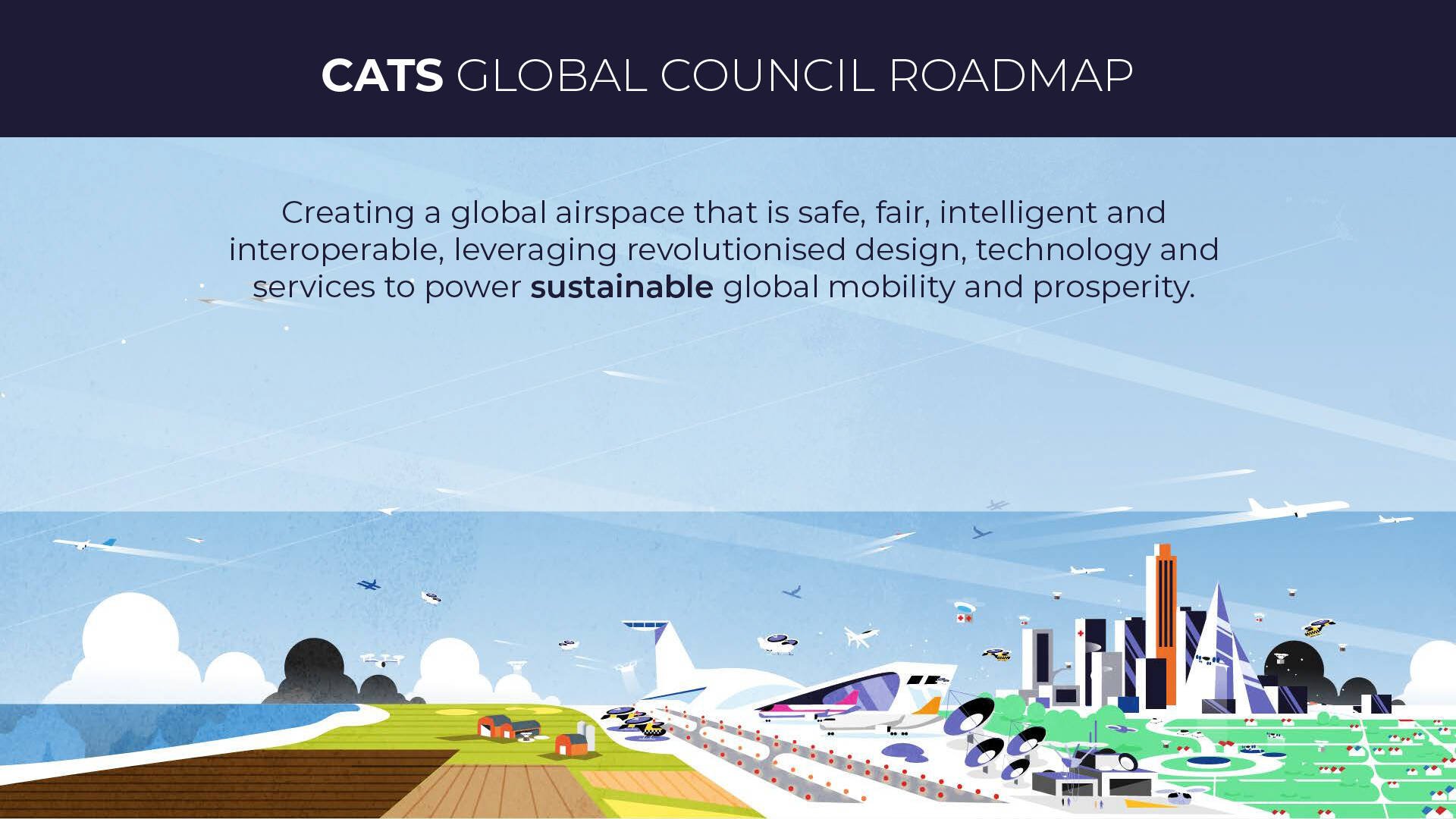 What does the roadmap say?
The first step in the roadmap was taking the vision that had been released by the CATS Global Council in October 2021 and identifying specific 2045 goals. A building block approach provided the best framework.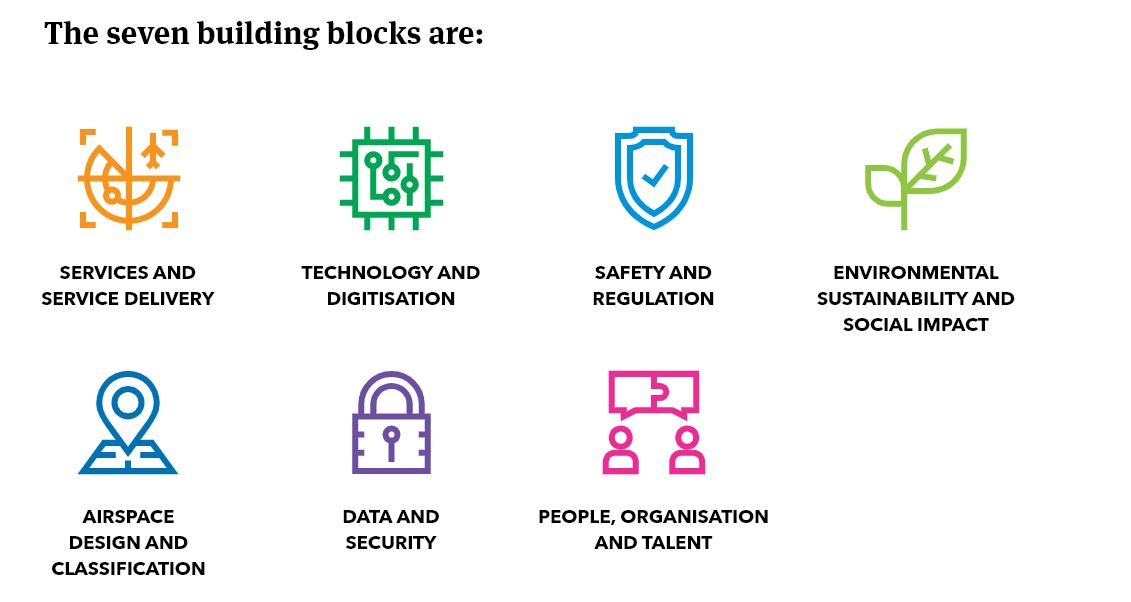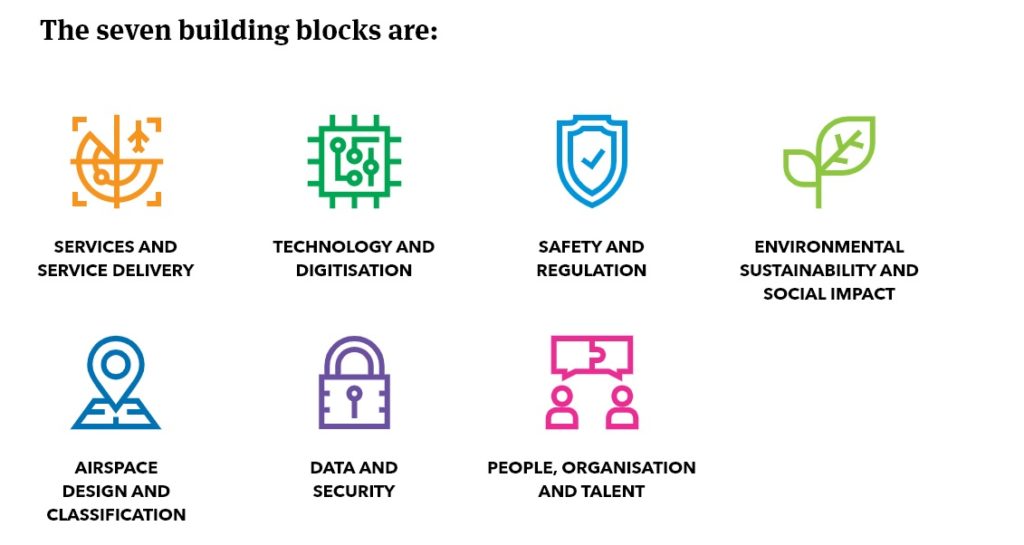 There are several advantages to this methodology. It not only ensures balance but also a solid foundation for a holistic approach. For each block, the vision can be broken down into incremental steps, which in turn gives rise to potential actions to achieve those steps. The steps and actions not only describe technological and operational developments but also cover political, economic, social and legal aspects.
The difficulty, of course, is collating the incremental steps into a cohesive roadmap that ensures each building block is in sync with the others.
Services and Service Delivery
A closer look at the Services and Service Delivery building block reveals the detailed work that has been done.
The Global Council began by snapshotting the current situation. Broadly speaking, for all air navigation service providers (ANSP), services are constantly improving, becoming safer and more efficient even as they are tailored for specific customers and circumstances. Humans are gradually taking on a strategic, less hands-on tactical role in this set-up. And as airspace become seamless, so the overall system becomes resilient and scalable. Exceptions from the norm are far easier to handle.
What needs to happen by 2045? The aim is to significantly enhance the overall performance of trajectory management, including such aspects as safety, capacity, efficiency, resilience, cost effectiveness, environment, flexibility, predictability and security.
A key development is the abstraction of services and applications from the underlying hardware. New technology can then easily integrate into the air navigation system using a simplified modular approach and a multi-cloud platform. This has enormous consequences across several performance areas, especially capacity.
Moreover, it will optimise the human-machine partnership – including the automation of some tasks – and make airspace truly seamless, scalable, sustainable, resilient and demand-driven. All airspace users will have their preferred trajectory whenever possible.
ANSPs also need to be aware of changes to the customer base. Traditional customers – airlines – will be utilising aircraft with fully connected cockpits meaning an extraordinary amount of data will be transferred in real time, transforming service capabilities through initiatives such as system-wide information management (SWIM).
And new customers will come to the fore, such as drones and other urban mobility vehicles. These will bring their own requirements and performance parameters.
How do we get from the 2022 reality to the 2045 vision?
What needs to be done for these new services to be implemented? Clearly, there must be a new high-level Concept of Operations (CONOPS) for the next era of air traffic management. And this must be led by the industry and supported at the ICAO level.
Unmanned aircraft systems traffic management (UTM) and its integration into civil airspace will also be a big-ticket item. Common technologies, best practice and innovative solutions all need to be identified and embraced so airspace can become a unified environment that seamlessly integrates a diverse mix of airborne vehicles, equipment and services.
On the regulatory side, the 2045 vision calls for an international regulatory framework that is based on principles that serve the performance needs of all airspace users and is adaptable to regional and state needs. ICAO has a role to play here too and will need to act with agility to incorporate the ever-changing landscape at the global level.
Meanwhile, financial models will need to evolve to address the greater diversity of aircraft operations and service providers. In other words, how an ANSP charges and what it charges for, will need to develop in accordance with the changing ATM landscape.
"We need greater collaboration with all stakeholders to support airspace improvements and understand how service provision will work in the future," says Michelle Bishop, CANSO's Director of Programmes. "Initiatives must be proven to be for the economic or operational benefit of all and not just a single stakeholder. That means open systems and a service-oriented culture."
Sustainability to the fore
Sustainability is only growing in importance, so the roadmap incorporates the latest developments and thinking on this crucial subject.
Simply, the sky of 2045 must be cleaner, quieter and more efficient. Given the investments being made in hybrid technology, cleaner fuels and electrification, there is every reason to believe this is possible. Overall, all aviation stakeholders will have better access to low carbon and zero carbon energy sources and lifecycles for vehicles and fuels/energy sources will be properly considered.
ANSPs must play their part. The biggest impact they can have is improving efficiency in the sky. Environmental sustainability and social impact need to be integrated into the entire airspace system. The most obvious improvement is user-centric airspace designed to optimise traffic flows.
The roadmap acknowledges that the first step to achieving meaningful results is to secure ICAO approval of a long-term aspirational goal for aviation at ICAO Assembly 41 in September-October 2022. This should generate increased state engagement and new policies that support all sustainability measures.
ANSPs also need to embed ATM improvements in the ATAG Waypoint 2050 decarbonisation roadmap in their strategic plans.
"Improved environmental key performance indicators for ATM and consensus around their use would help drive individual accountability," says Michelle Bishop, CANSO Director of Programmes. "ANSP participation in CANSO's GreenATM environmental accreditation programme will help ANSPs maximize their efforts."
Noise, as well as emissions, must be addressed. A complete noise footprint analysis will inform future certification requirements and technical procedures.
And, of course, celebrating the industry's achievements as progress is made will help to proactively address public concerns and improve public perception.
Conclusion
The roadmap is a concrete example of the cross-industry leadership seen in the Global Council. There is a great deal of work to be done, but with the completion of the roadmap, the vision for the skies of 2045 has become tangible. The milestones and actions that will help the industry achieve its goal have become clearer.
"But we must not rest on our laurels," says Simon Hocquard, CANSO Director General and Chair of the CATS Global Council. "We will continue to assess how the roadmap is being delivered. We need to keep an eye on global changes to make sure that the vision and roadmap remain fit for purpose."