The impact of COVID-19 on air traffic controller training and how simulation can be part of a solution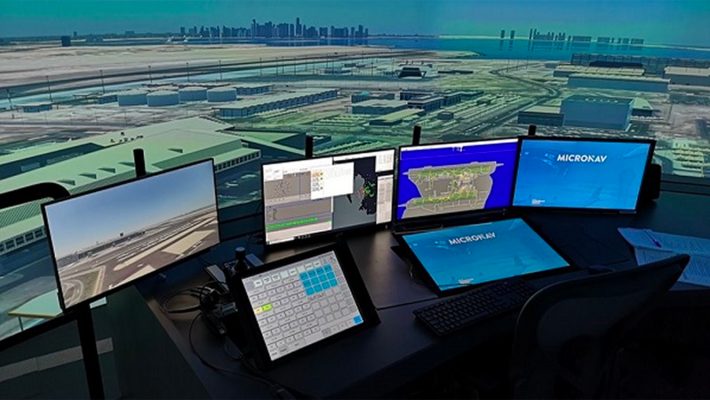 Greg Pile, MD of silver CANSO member Micro Nav reviews the impact of COVID-19 on air traffic control training, and offers CANSO ANSP Members free access to ATC simulation.
Service providers around the world are facing a unique challenge, as a result of COVID-19, air traffic volumes hit an all-time low resulting in a strain on the finances of ANSPs. In managing this, along with the need to socially distance, many suspended air traffic training, including on-the-job (OJT) and abnormal and emergency situations training, a measure supported by regulators around the world, exempting operators from their normal validity period.
This move will have resulted in trainees, in the early stages of their training, halting their normal progression through their qualification, and OJT trainees being unable to progress through the different checks due to physical distancing measures, with the issue compounded by exceptionally low traffic levels. In addition, current ATCOs may have observed a degradation in performance, and potentially a slight loss of confidence, as many are controlling such low traffic levels, the numbers of which have not been seen for many decades.
The International Federation of Air Traffic Controllers' Associations (IFATCA) recently called on States to safeguard the provision of air navigation services, highlighting it as critical national infrastructure, and advising against focusing exclusively on cost-savings in times of crisis. With training a vital part of the safety critical requirements of ATC, provision of such training should also be safeguarded.
In many countries travel restrictions are being lifted and traffic is picking up. ANSPs will be looking to return staff into operations to service the increasing traffic, whilst evaluating the shortcomings from halting or reducing training. Having access to ATC simulation at this time would help controllers build up to busy traffic situations, to regain some of the skills which will inevitably have faded during the last few months, along with regaining the confidence of managing much higher traffic loads safely.
I believe that there is always an opportunity within this kind of crisis once we take a moment in time to analyse the true situation unfolding around us. With demand on operational units being as low as it is, now is the time to make sure that training is delivered as much as possible in all areas of personal and operational development, to ensure that staff are ready to respond to the inevitable return to normal operations. This also ensures our industry continues to invest in our people, who are the reason we are so successful. Without our frontline operational controllers, and vital support engineers, everything else is without purpose.
In response to the needs of the ANSPs, Micro Nav is pleased to announce its partnership with CANSO to offer its ATC simulation platform, via BEST's Remote functionality and the use of remote machines in the cloud to CANSO's ANSP Members. This access to Micro Nav's BEST simulation solution allows the use of simulator assets, that would otherwise sit redundant due to social distancing measures, enabling a return to much valued training in support of the Global ATCO community as the industry responds to the recovery of air travel.
CANSO ANSP members can find out about how the Micro Nav BEST ATC Simulator works and its benefits during an exclusive webinar on 28 July.