AEROTHAI
Organisation Overview
Aeronautical Radio of Thailand Limited (AEROTHAI) is a State Enterprise under the Ministry of Transport. With the consent of the Royal Thai Government, a group of airlines founded AEROTHAI in 1948 to provide air navigation services for airline operations. In 1963, the Government acquired the majority of the Company's share capital from the founding airlines thereby altering the Company's status to that of a State Enterprise.
AEROTHAI operates with a commitment to maintain a quality of air navigation services in accordance with international standards and to upgrade technology and human resources with the goal to enhance national capacity and develop the aviation industry in Thailand. In addition, the Company also provides related services, including:
Providing communication equipment for air transportation operations at airports within Thailand and overseas.
Designing, manufacturing, and installing customized communication equipment.
Carrying out consultancy and training in air traffic control, aeronautical telecommunications, and engineering.
Installing and maintaining communication equipment for domestic and international organisations.
Furthermore, AEROTHAI emphasizes enhancing the infrastructure for the air navigation service to support Global Air Navigation Plan and air traffic growth, improving air traffic flow management regional network to harmonize with global network as well as enhancing airspace capacity and utilization according to the concept of Flexible Use of Airspace (FUA), all contribute to the provision of services that meet customers' needs.
No. of Towers Operated: 35
No. of ACCs: 1
No. of Employees: 3,074
Total No. of ATCos: 808
Related News
Member Information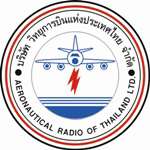 Membership Type: Full Member
Chief Executive Officer: Mr. Somnuk Rongthong, Executive Vice President
Country: Thailand
Telephone number: +662 287 3531 41
Fax number: +662 287 3131
E-mail: prga@aerothai.co.th
Head office:
102 Ngamduplee,
Tungmahamek ,
Bangkok 10120
Websites: