AEROTHAI
Organisation Overview
Aeronautical Radio of Thailand Limited (AEROTHAI) is a State Enterprise under the Ministry of Transport. With the consent of the Royal Thai Government, AEROTHAI was founded by a group of airlines in 1948 to provide air navigation services for airline operations within Bangkok Flight Information Region (Bangkok FIR). In 1963, the Government acquired the majority of the Company's share capital from the founding airlines thereby altering the Company's status to that of a State Enterprise.
AEROTHAI is responsible for air navigation services for all phases of flight in Thailand's national airspace system. Services provided include Air Traffic Management (ATM) Communications, Navigation, and Surveillance systems (CNS), and Instrument Flight Procedure Design (IFPD) with the ultimate goal to ensure the safe operations of aircraft and to expedite as well as maintain an orderly flow of air traffic within Bangkok FIR. Apart from ATM, CNS, and IFPD services, AEROTHAI alo acts as the International Notice to Airmen (NOTAM) Office (NOF) for Thailand, providing timely aeronautical information to airspace users and related parties for the safe and efficient flight operations. Additionally, AEROTHAI is the Regional OPMET Center (ROC) and the Regional OPMET Data Bank (RODB) for Asia/Pacific. Building on its experience and expertise, AEROTHAI also offers other air navigation-related services such as aeronautical communication, flight validation, system calibration and maintenance.
Vision
"A Sustainable Quality Excellent Air Navigation Service Provider"
Mission
To be the national air navigation service provider that meets users' requirements in safety, standards, and efficiency while realising the responsibilities to all stakeholders and national interests.
| | |
| --- | --- |
| Number of Towers operated | 35 |
| Number of Area Control Centres | 1 |
| Number of Employees | 3,205 |
| Number of ATCOs | 833 |
Member Information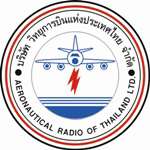 Membership Type: Full Member
President: Dr. Nopasit Chakpitak
Country: Thailand
Telephone number: +662 287 3531 to 41
Fax number: +662 287 3131
E-mail: cccr@aerothai.co.th
Head office:
102 Ngamduplee,
Rama IV,
Tungmahamek ,
Bangkok 10120
Websites: