CANSO 26th AGM 2022
CANSO members are invited to join our 26th AGM on 20 June 2022, at 14:30 CEST, at the Meliá Castilla Hotel in Madrid, Spain. Our AGM is, once again, being held alongside World ATM Congress which runs from 21 to 23 June.
Our AGM is our Members' opportunity to review CANSO's activities and successes over the past year, have their say about the future direction of the association and ensure they are getting the most from your CANSO membership.
Full AGM agendas and papers will be hosted on the AGM and Governance page of myCANSO.
Practical information
Location
Madrid is the capital city of Spain, with a population of 3.2 million inhabitants. This large and growing population makes it the third largest city in the European Union.
Travel information
For more information on the latest Covid-19 restrictions and requirements for entry into Madrid, Spain please visit the following website for regular updates: https://www.spth.gob.es/
Visa Information
There are a number of countries whose citizens are required to have a valid current visa to enter Spain. For information about obtaining a visa, please visit: https://www.spain.info/en/informacion-practica/consejos-viaje/consejos-practicos/requisitos/. For those citizens who require a visa it is recommended to start the visa application process early.
If you require a formal invitation letter for a visa application, please complete your registration first and then email Events@CANSO.org with your first and last name, organisation and job title.
Currency
The currency in Spain is the Euro.
Credit and Debit Cards
Most international credit cards including VISA and MasterCard are widely accepted in Madrid and can be used in various outlets and ATMs.
Transport
In Madrid, there are several means of transport to get around town. The most popular are the subway network, the bus service and local trains. Official taxis in Madrid carry diagonal red stripes and a green light on the roof. Uber is also available in Madrid.
Emergency services
In case of an emergency, dial 112 (free of charge).
For non-emergency services call 091 for the police, 061 for an ambulance and 080 for the fire brigade.
Dialing code
The international country dialling code for Madrid is 34.
Weather
The average daytime temperature in June is 28 degrees Celcius, 82 Farenheit.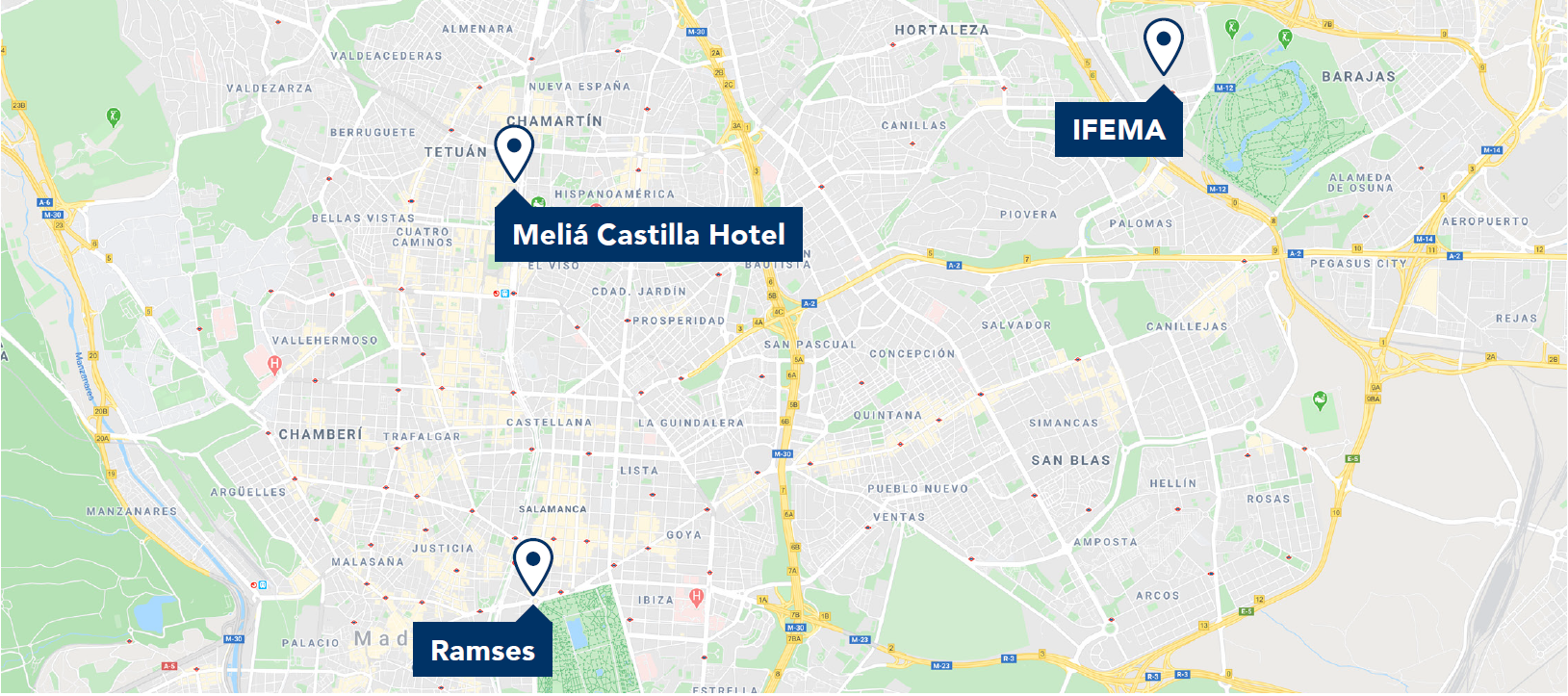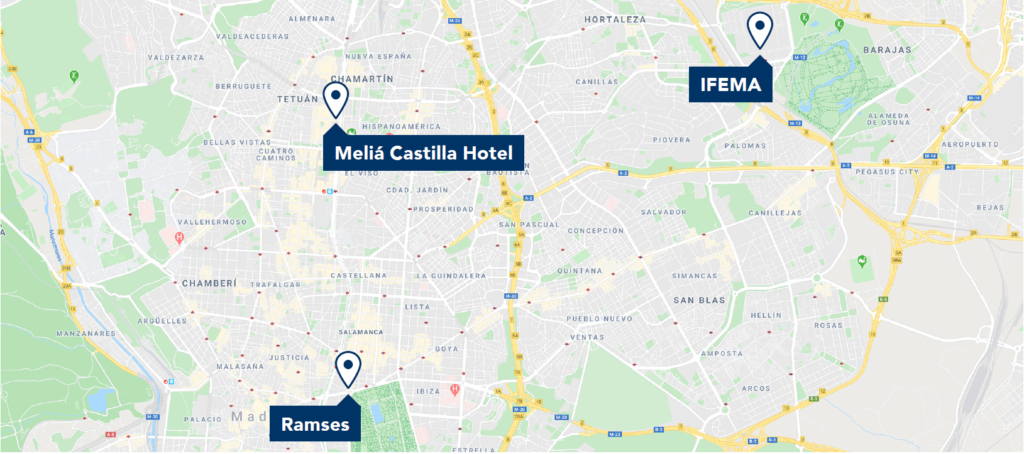 Meliá Castilla Hotel
Calle del Poeta Joan Maragall, 43, 28020 Madrid, Spain
20 June
CANSO 26th AGM
14:30 – 16:30
Business attire
IFEMA
IFEMA, Feria de Madrid (North Entrance), 28042 Madrid, Spain
World ATM Congress
21 June – 23 June
Exhibition hours:
Tuesday 09:00 – 18:00
Wednesday 10:00 – 18:00
Thursday 10:00 – 14:00
Venue
The CANSO 26th AGM will be held at the Meliá Castilla Hotel.
Meliá Castilla Hotel
Calle del Poeta Joan Maragall, 43
28020 Madrid, Spain
We recommend the Meliá Castilla Hotel as your accommodation during the CANSO 26th AGM.
Health and safety prototcols
We want to share with you the measures we have put in place to keep us all safe at our upcoming CANSO events. This document outlines Spanish government requirements, and additional measures that the Melia Castilla has introduced, as well as additional measures CANSO is applying.
Spanish Government Requirements:
Even though in Spain it is no longer mandatory to wear a face mask, except for on public transport, (for the general safety of all participants) it is recommended to wear a face mask when attending the CANSO Executive Summit and AGM.
Masks MUST be worn on all forms of public transport, including taxis and other car services. Eating and drinking on public transport is not permitted. You may be refused transport if you do not wear a mask.
Additional CANSO advice:
CANSO advises delegates to not attend the CANSO events or meetings if you have tested positive for COVID-19, are waiting for COVID-19 test results, have COVID-19 symptoms, or if you have had close contact with a person who has tested positive for or who has symptoms of COVID-19.
PHYSICAL DISTANCING
Physical contact restriction
There are now no restrictions on distancing. However, we highly recommend that you respect others' choices regarding physical contact including handshakes.
Registration
To minimise contact at the start of our event, a dedicated registration team will be in place to register you and to hand you your name badge. The organisers will carry out all the necessary protocols to ensure that health and safety measures are followed at all times.
CLEANING AND HYGIENE
Enhanced cleaning
Our team will work closely with the Melia Castilla Hotel to ensure continuous sanitisation of our event spaces, including restrooms, door handles, food service areas, conference room tables, AV equipment, and common areas.
Hand sanitation
Hand sanitising stations will be placed throughout the event space.
Air quality and ventilation
To guarantee safety and hygiene, and particularly the air quality in meeting rooms, the Melia Castilla Hotel has opened the external ventilation system at 100% with air renewal every 5 minutes, 12 times per hour.
PROTECT AND DETECT
Covid-19 Testing
If you are attending the CANSO Executive Summit 2022, AGM, and/or Networking Cocktail Reception, we strongly encourage you to be fully vaccinated upon your arrival. If you are not vaccinated, we ask that you take a Covid-19 test (PCR or lateral flow test) maximum 72 hours prior to your arrival to the CANSO events you are attending (provided the test is negative). Thank you for understanding.
First aid
The Melia Castilla Hotel has medical staff onsite. If you feel unwell and are staying at the hotel please remain in your hotel room and call the reception desk to ask for assistance. If you are not in your hotel room at the time of feeling unwell, please proceed to your hotel room and call the reception desk for assistance. If you feel unwell at any of the CANSO events in the Melia Castilla Hotel and are not a guest of the hotel, please report to the hotel main reception desk for assistance.
Registration
CANSO's AGM is open to CANSO member organisations only.