CANSO congratulates winner of Global Safety Achievement Award
CANSO praises the winner of this year's CANSO Global Safety Achievement Award at the CANSO Global ATM Safety Conference in Budapest, Hungary.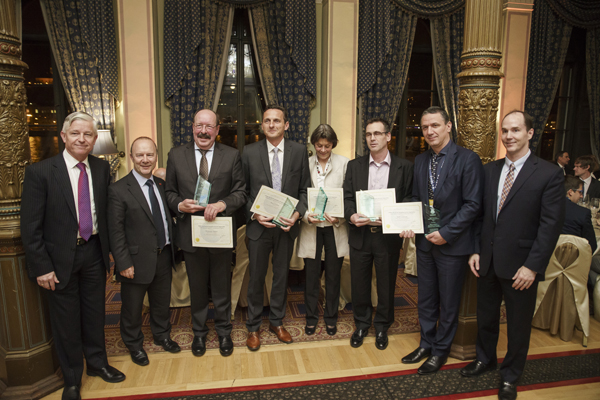 From left to right: Jeff Poole, CANSO,  David Harrison (Chair SSC), NATS, Heinz-Peter Gassen, DFS, Alain Du Bois, Belgocontrol, Marianne Zingre-Haener skyguide, Hervé Forestier, DSNA, Tony Licu, EUROCONTROL, Steve McMahon (Vice Chair SSC), FAA
In recognition of excellent work to improve aviation safety worldwide, CANSO commends the winner of the CANSO Global Safety Achievement Award; the International Audit Cooperating Team (IntACT).
IntACT is the international cooperation of air navigation service providers Administration de la Navigation Aérienne (ANA) Luxembourg, Belgocontrol, Deutsche Flugsicherung (DFS), Direction des Services de la Navigation Aérienne (DSNA), EUROCONTROL Maastricht Upper Area Control Centre (MUAC) and skyguide to assist each other in internal safety and security audits.
The CANSO Global Safety Award recognises the proactive and international approach the Functional Airspace Block Europe Central (FABEC) partners have demonstrated through their joint efforts to reduce aviation risk internationally.
The IntAct members who received the award are: Gary Beaton (ANA Luxembourg), Alain Du Bois (Belgocontrol), Christoph Peters (DFS); Partricia Lézin (DSNA), Keith Cartmale (MUAC); Peter Scheuber (skyguide).
CANSO was delighted by the high standard of entries for the Global Safety Award this year and encourages organisations or groups to consider entering a submission next year. Successful recipients or teams need to show how they have introduced, improved or made an important safety contribution which has reduced aviation risk in the previous 12 months. This may be a local, regional or global contribution and may encompass a process, procedure, technology or training improvement. Please contact Kimberly Pyle, Safety Programme Manager, for more information: Kimberly.Pyle@CANSO.org.