AirMap demonstrate InterUSS Network-Based Remote ID Application
Last month, AirMap, Alphabet's Wing and Kittyhawk.io demonstrated a network-based remote ID application on the InterUSS Platform™. The successful demonstration illustrates that a remote ID solution exists today for drone operations in networked areas, without the need for additional infrastructure or technology.
About the Demonstration
AirMap, Wing, and Kittyhawk.io are each UAS Service Suppliers (USS) of the FAA's Low-Altitude Authorization and Notification Capability (LAANC) for authorization to operate drones in U.S. controlled airspace. During the demonstration, multiple DJI and Wing drones were flown in controlled airspace, each connected to a unique USS, which exchanged data via a branch of the open-source InterUSS Platform™.
Non-participating bystanders were able to visualize the drone operations in their vicinity in real-time on a smartphone application, no matter which USS the drone was connected to. Only safety information was shared, protecting operator and consumer privacy.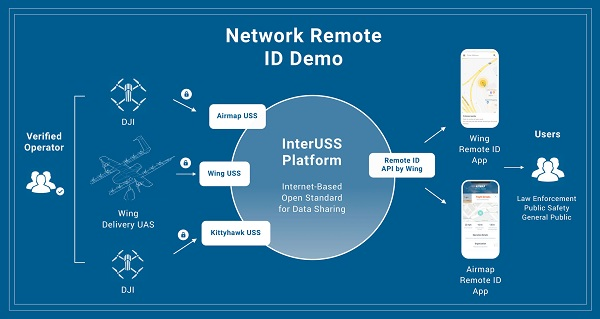 Network-Based and Local Broadcast Remote ID
There is a global consensus among airspace stakeholders that remote identification is necessary before widespread advanced drone operations can be achieved. But many disagree on the best path forward in establishing and enforcing remote identification without imposing a burden on the operator or infringing upon privacy rights.
By validating an operator's identity through their respective USS, network-based remote identification offers a trusted picture of who is flying a drone, without requiring any additional information or equipment from the operator. This makes network-based remote ID an easy and effective way to facilitate transparent and accountable UAS operations – which increasingly provide valuable and personal services to the public in highly-networked locations.
Networked remote ID is also flexible. As new security needs arise, or technology implementations improves, network-based remotID allows industry and operators to evolve to adopt new standards and realities, quickly and simply.
In remote areas where network coverage is sparse, remote identification data broadcasted by drones can be integrated into the same network remote identification apps. In this case, drones share information using integrated ground control station or cellular tracking devices. The AirMap UTM Platform supports networked and local broadcast remote ID.
"Before such wide-scale drone operations as autonomous deliveries can take place, we need to ensure that regulators – and the public – can easily assess whether or not a particular drone belongs to a good actor or requires intervention," said Ben Marcus, Co-Founder and Chairman of AirMap. "Network-based remote identification applications like AirMap's Drone Aware, augmented by local broadcast solutions when available, help airspace managers enforce aviation regulations while cultivating public trust in drone and also protecting the privacy of drone operators."